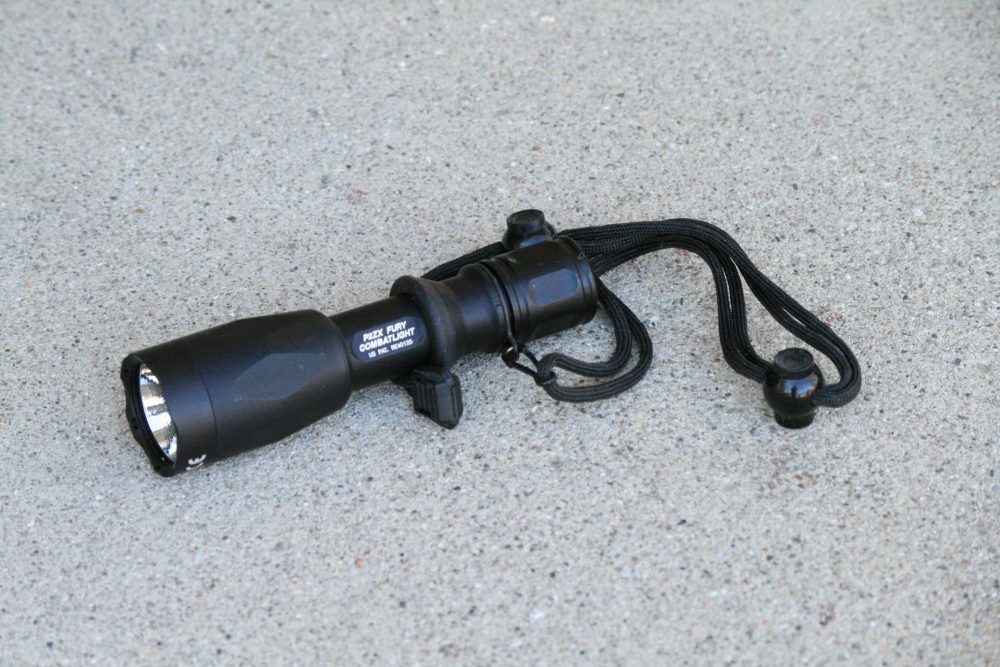 From dusk 'til dawn: have a good flashlight handy in case of late-night intruders.

---
Like a Good Neighbor
A resident of Phoenix, Arizona was getting out of her car when a man approached her and asked to use her cell phone. Since he was a stranger, she refused, whereupon he hauled her bodily from her car and threw her on the ground, then jumped into the driver's seat and began to drive away. Her neighbors, a married couple, witnessed the assault and ran toward the reversing vehicle, in an attempt to intervene in the carjacking.
The wife opened the passenger door and tried to climb in to force the carjacker out, but he threw the car into gear, sending her flying back onto the pavement. At that point her husband produced a handgun and fired several shots at the carjacker, wounding him. He sped away but crashed into a tree and died en route to the hospital.
Source: KSAZ-TV, Phoenix, Arizona, 8/15/14
One in 16
Some 20 people were waiting in line early one morning outside a clothing store in the Little Five Points neighborhood of Atlanta, hoping to be the first inside to buy a pair of the new LeBron James basketball shoes. Instead they were approached by two men, one of whom pulled a handgun on the group and ordered them to "give it up."
An estimated one in 16 Georgians has a concealed handgun permit, and one of their number was in line that summer morning. He produced his concealed firearm and opened fire on the armed robber, fatally wounding him. The deceased had a long criminal record. His companion fled.
Source:Atlanta Journal-Constitution, Atlanta, Georgia, 6/24/13
"I Wanted Him Out of My House"
After midnight, a man on the northwest side of Indianapolis awakened to hear his back door being kicked open by a stranger. The homeowner armed himself and tried to hide in his pantry, but when the intruder reached the kitchen, a scuffle ensued.
During the struggle, the homeowner feared for his safety and fired his gun at the assailant, striking him in the lower torso and sending him fleeing from the house. Police arrived, took the man into custody, and transported him to the hospital, where he awaited charges. "I wasn't intending to kill him or anything like that, but I had to get him up off me and I wanted him out of my house," the victim later told reporters.
Source:WXIN-TV, Indianapolis, Indiana, 11/13/14
Upper Peninsula Invasion
Just before five o'clock on a November morning on Michigan's Upper Peninsula, a Menominee man heard the sounds of forced entry at his home. He called the police, and when the first deputy arrived, one invader lay dead of multiple gunshot wounds, and a perimeter was set up to search for the other attackers.
Two accomplices were found and arrested, charged with this and one other burglary in the area. The homeowner, a 62-year-old man, was admitted to a local hospital for stress after the incident. The sheriff stated that the case would be reviewed.
Source:WLUC-TV, Marquette, Michigan, 11/12/14