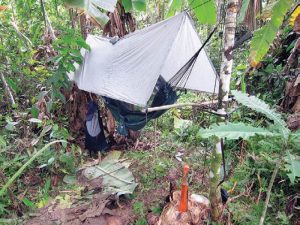 NOT all jungle trips are "survival outings." All over the world, there are guided trips to remote jungle locales that require an overnight stay or a multi-day trip, usually in a package deal providing transportation via van, boat, or elephant, and always with a local guide. I once heard there is no such thing as bad terrain or weather, but only ill-equipped people. Having the right gear that is both useful and lightweight makes any trip more enjoyable.
I want to help open people up to the fun of jungle trekking! Rather than trying to touch on every little piece of gear, I'll concentrate on the big four: backpacks, shelter system, hydration and tools.
BACKPACKS
As tourists visiting a new location, not much trekking takes place without a backpack. This goes for in or out of the wild. For years I have been using U.S.- made backpacks from Gossamer Gear. Two packs that I have used in Southeast Asia and South America come to mind: the RikSak (900 c.i.) and the Minimalist (1,100 c.i. main body/360 c.i. outside pocket).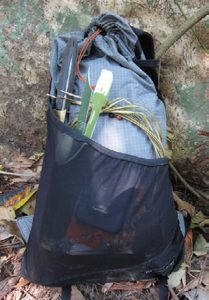 The RikSak is ultralight, weighing only two ounces empty, and is meant to carry day hiking or overnight gear. The Minimalist is for trips of up to a week. Each pack has a simple, large compartment with drawstring closure. Smaller packs help people cut down on overpacking, taking only the essentials and maybe a few extra goodies.
SHELTER
When it comes to a guided trip in the jungle, a hut or platform house with hammocks may be provided. Three items go into a good jungle shelter: hammock, tarp and mosquito nets. Without any one of these three, you may be in for a less-than-comfortable night.
Hammocks are not for everyone, but jungle temperatures are such that hypothermia is not an issue. Sure, there are chilly hours, but nothing a simple 99-cent plastic poncho used as a blanket can't help. Instead, the cool airflow of a hammock provides much-needed relief from the heat. In the jungle, I usually spend about 12 hours of darkness in a hammock. Like any other piece of gear, try it out before you use it, to make sure it feels right.
On the subject of tarps—keep one on you. On at least three occasions we were supposed to camp in a place with a waterproof thatched roof. All we needed to do was string up our hammocks. Needless to say, I got dribbled on all night.
With a tarp, you carry around your own portable rooftop. Make sure the tarp you bring is long enough to cover your hammock, so the tie-outs don't soak up water and send a steady drip to your head and feet. This was something I dealt with on my last jungle trip to Peru. Also, a tarp pitched too close to your hammock will likely catch radiant body heat and create a sauna effect— another thing you don't want.
A mosquito net in the jungle is a sine qua non. Without it, you will surely capture the essence of the Three Stooges all by yourself, slapping away all night while blurting out profanities. With diseases like malaria and dengue fever, sleeping without a bug net is a bad idea.
Get the right kind of net. Take it out of the package and make sure it isn't the type for draping over a bed (they usually have a long slit in one side). Make sure it is easy to use by itself on a wooden platform and in a hammock. It must have tie-outs to make it easy to set up. Time is never our friend when the rain is coming down.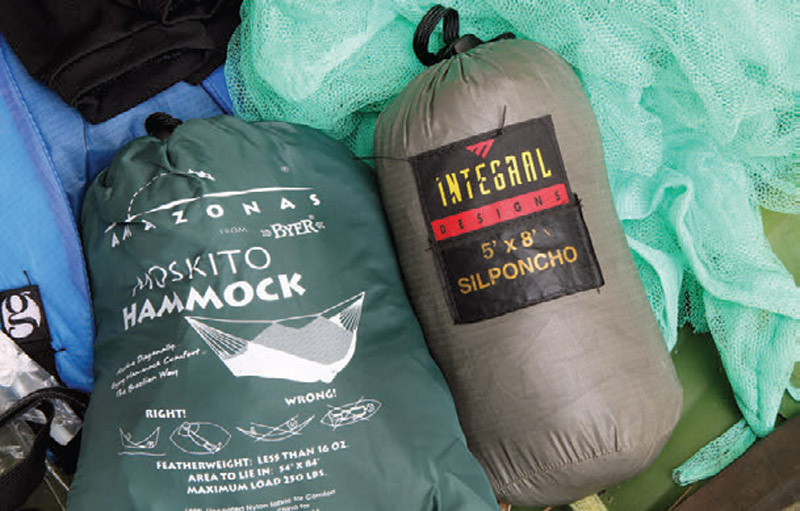 I have used only one type of tarp for the last 12 years, Integral Designs, which makes some of the lightest tarps on the market, made from silicone-impregnated 30D ripstop Cordura.
Pro Force mosquito nets have been a mainstay with a few of us in the Peruvian rainforest. They have small reinforced metal rings for easy set-up, and can be used in a swamp bed, hammock, hut, or on the ground.
For well over ten years, I have used hammocks by Byer of Maine due to their travel-friendly weight. The Traveller Lite Hammock weighs about 11 ounces and I can add my own bug net/tarp combo and be well under two pounds.
Recently a newer model was released called the Moskito Hammock. Another Randall's Adventure & Training instructor, Patrick Rollins, introduced me to it. He used it on a few trips and eventually I picked one up. This model has a builtin net, so that's one less thing I have to set up. It isn't the fanciest hammock, but weighing 16 ounces total, it's light and easy to deal with.
An Integral Designs tarp and Byer Moskito Hammock more than take care of shelter for only 1.5 pounds.
HYDRATION
Water sits high above all other priorities just about everywhere you go. In order to stay hydrated in the jungle, you must have a means of safely treating water. Don't drink water from the streams and rivers like the locals. They have built up a tolerance for it over the years, but it will spell disaster for newcomers. Try to stay away from stagnant pools of water, though this is not always possible.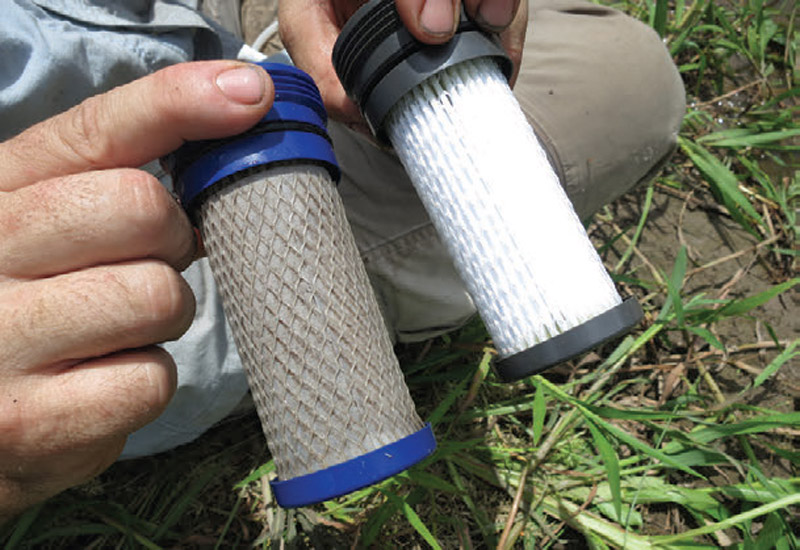 Three common ways of treating water are boiling, filtering, and adding chemical tablets. Water filters usually clog up after four to six uses, depending on the amount of grit in the water. Chemicals like iodine and chlorine tablets work, but the wait time is about 30 minutes for iodine and up to four hours for chlorine dioxide to work. With really cold or very dirty suspect water, it takes the full four hours. Otherwise two to three hours are enough.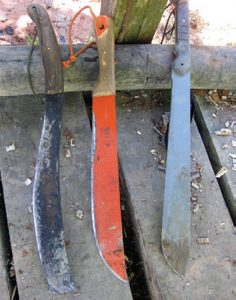 Boiling is regarded as the safest way to treat water, but it does require a fire, which isn't always simple. The easiest thing is to gather water and pop a few tabs according to the type of chemical. Even if you carry a water filter, it's wise to have iodine or chlorine dioxide tablets as well.
Carrying water in the jungle is much the same as anywhere else. Make sure it is easily accessible and in a container that isn't going to burst. Nalgene bottles are popular but heavy. Simple Gatorade bottles have a wide mouth and are durable, plus they come with a fruity drink that is good for you. I use a Platypus 2L hydration bag that can double as a pillow.
When it comes to multi-use tools in a jungle environment, few people would deny the effectiveness of the long blade. It doesn't matter if it's a machete, Malaysian parang, or Filipino bolo—big blades rule! Pick one up locally. Not only do they make good souvenirs, but you also help the local economy.
On a planned trip to the jungle with a guide, most likely he will have a machete and trails will be used (depending on the type of trip). The individual should have his own personal pocket folding knife or multi-tool for the majority of the tasks one encounters in a camp.
Jungle trekking offers challenges related to pushing your limits but provides even more rewards from experiencing its unique environment and learning how much you can accomplish. Gear up properly and you'll be able to operate more efficiently in the jungle.