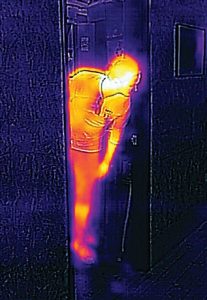 Thermal imaging will change the way you see the world. Although cost was once a limiting factor, thermal imagers have never been more affordable. They have also never been more practical. Today's thermal imagers are smaller, lighter, and provide greater performance than ever before.
With the new FLIR ONE from FLIR Systems, the world leader in thermal imaging technology, thermal imaging is now as close as your smartphone. And with an MSRP of $249.99, it won't break the bank.
HOW THERMAL IMAGING WORKS
All natural or man-made objects that aren't at absolute zero temperature emit electromagnetic radiation of many different wavelengths. The hotter an object becomes, the more infrared (IR) radiation is emitted as a result of the thermal agitation of its atoms or molecules.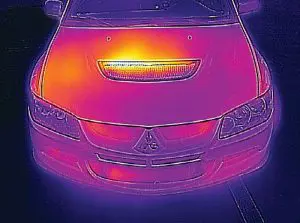 The spectral distribution or wavelength depends on the nature of the body (i.e., its relative effectiveness as a radiator, or "emissivity") and its temperature. Darker colors and duller surfaces usually have a higher emissivity and radiate more effectively. Lighter colors and shinier surfaces have a lower emissivity and radiate less effectively.
The human eye can only detect electromagnetic radiation within a narrow band of wavelengths, known as the visible spectrum. The IR region of the electromagnetic spectrum lies outside the visible spectrum. It's typically divided into three regions based on wavelength: near (or shortwave) IR, mid (or midwave) IR, and far (or longwave) IR.
Modern-day thermal imaging devices operate in either the midwave or long-wave IR region. The FLIR ONE operates in the longwave IR region.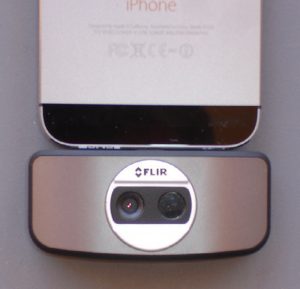 By sensing the IR energy that's radiated by objects, thermal imagers generate a real-time image that provides a thermal signature of a scene. By measuring very small relative temperature differences, invisible heat patterns are converted by the thermal imager into clear, visible images that the human eye can see.
Since a thermal imaging system senses heat and not light, it can be used in full daylight and at night. Because they sense heat, thermal imagers have a much greater range of applications than image intensification (I2) devices.
I2 devices require a certain level of visual contrast to distinguish objects in a scene, even with adequate light. Objects of similar colors may blend together or become indistinguishable when viewed by an I2 device. Since thermal imaging detects heat, it will detect targets in many conditions where a night-vision device may miss them.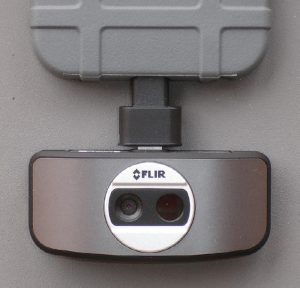 Thermal imagers don't require visual contrast to discern objects. Although fog and other forms of precipitation and high humidity do degrade thermal images (by absorbing IR before it reaches the sensor), thermal imagers can see through dust, clouds, smoke, haze, light fog, light rain, and most camouflage.
Personnel, equipment and other objects can be separated from cluttered backgrounds and foliage. Thermal imagers present information about the surroundings that would not be available with any degree of light amplification.
Hollywood aside, thermal imagers cannot see "through" walls, doors, glass, or clothing, or detect buried objects. Thermal imaging has numerous everyday applications for law enforcement, search and rescue, personal safety, security, outdoor activities, energy inefficiencies, and environmental monitoring. The Law Enforcement Thermographers' Association (LETA) currently recognizes 12 law enforcement applications for thermography. (See page 87.)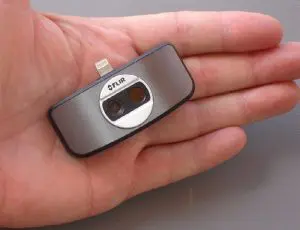 FLIR ONE iOS & ANDROID
A thermal camera accessory for smartphones makes a lot of sense. Hundreds of millions of smartphones are in use worldwide. Practically everyone in the industrialized countries has one.
The FLIR ONE Thermal Imaging Camera Attachment is available in two models. The FLIR ONE iOS® connects into the Lightning port of an Apple® iPhone® or iPad®. The FLIR ONE Android® connects into the micro-USB port of an Android device. FLIR Systems provided me with a FLIR ONE iOS.
The new FLIR ONE is robust, well-designed, compact and fits in a shirt pocket. It measures only 2.8×1×0.7 inches. It weighs 2.75 ounces, less than a third of the weight of the first-generation FLIR ONE. The only control is a small on-off button on the side of the unit with its own status LED.
The FLIR ONE is powered by a built-in rechargeable 350 mAh Li-ion battery, so it doesn't consume any juice from your phone or tablet. The battery provides more than 45 minutes of continuous operation on a single charge. The FLIR ONE automatically shifts to a low-power mode when it's inactive to conserve the battery.
FLIR will replace the entire device if necessary within its warranty period. The FLIR warranty length and support are similar to other mobile phone accessories and consumer products with built-in batteries.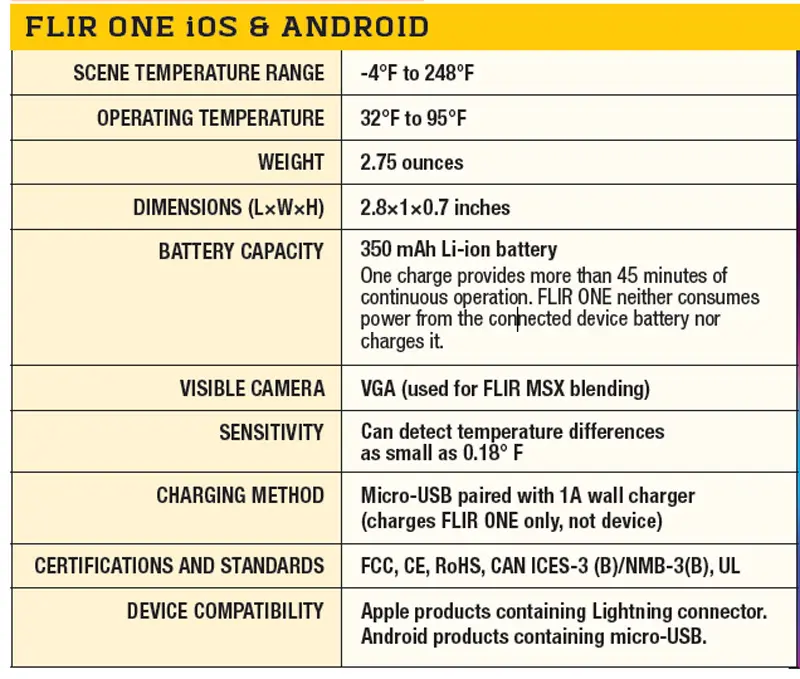 SPECIFICATIONS
It takes less than an hour to fully charge the FLIR ONE. The battery charges via the Lightning port on the iOS and the micro-USB port on the Android. A charging cable is included.
Live thermal images of the world around you are displayed on your phone or tablet screen. It can capture still images, videos, panorama images, and time-lapse videos.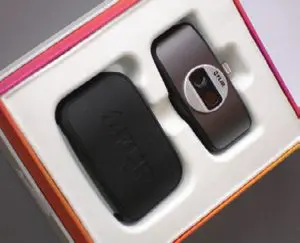 The FLIR ONE is equipped with two side-by-side cameras: a VGA visible camera and the revolutionary FLIR Lepton® longwave infrared (LWIR) micro thermal imaging camera. The powerful Lepton thermal camera in the second-generation FLIR ONE has four times the resolution of the first-generation FLIR ONE.
The FLIR Lepton is the world's smallest thermal imaging camera. Prior to the Lepton, thermal imaging cores were too large and expensive for mobile integration. The patented Lepton is a micro thermal camera core and detector all in one. It's ten times less expensive than traditional thermal imagers and has greater thermal resolution and sensitivity than common low-cost thermal sensors.
The second-gen FLIR ONE features automatic tuning, eliminating the need to periodically reset the thermal sensor.
The operational temperature range of the first-gen FLIR ONE is 32°F to 95°F, which may be a limiting factor in many environments. The scene temperature range in the new FLIR ONE has been enhanced to -4°F to 248°F. It has the ability to detect temperature differences as small as 0.18°. The second- gen FLIR ONE also features automatic tuning, eliminating the need to periodically reset the thermal sensor.
A really cool feature of the FLIR ONE is what FLIR refers to as Multi-Spectral Imaging (MSX™) technology. MSX is a patented proprietary technology that embosses details from visible images onto thermal images. MSX adds visible edge detail onto thermal images without eliminating any thermal information, greatly enhancing perceived resolution.
The FLIR ONE app, available for free download from the Apple App Store and Google® Play, features a simple and intuitive graphical user interface (GUI) with numerous features that make it easy to collect and share thermal images. The app can load captured images directly to the camera roll and users can easily share them on social media.
Don't expect military-grade performance from a consumer-grade thermal imager. That being said, the secondgeneration FLIR ONE greatly exceeded my expectations.
FLIR gives a range of about 100 feet for you to see the heat signature of a person with the FLIR ONE. I was able to detect the heat signature of a person out to about 100 yards under optimal conditions, but most of the definition was lost at about 30 feet without MSX.
The FLIR ONE is sensitive enough to detect residual heat from a recently handled object. If you place your hand on a cool surface for a few seconds, your handprint will be visible for up to a minute afterward.
The FLIR ONE shoots 640×480 images, and thus any taken with the device will not be high definition (HD). HD thermal imaging currently costs thousands of dollars. As an example, the new FLIR LS-Series (LS-X and LS-XR) thermal imaging monocular, which are designed for law enforcement, will run you just under $6,000.
CHARGING AND PROTECTIVE CASE
If you have a protective case on your phone, you need to either remove the phone from the case or use a port extender to connect the FLIR ONE. This is due to the thickness of the case.
If you have an Android device, FLIR will send out a micro-USB extender for free if you submit a request via FLIR. com. If you have an iOS device, as I do, you'll have to purchase a Lightning extender from third-party sources at this time.
My iPhone resides in a Magpul® Field Case. If you're looking for an outstanding case for basic protection of your phone in the field, check out the Field Case. I haven't found a better case for EDC.
As with everything Magpul makes, the Field Case features an exceptionally well-thought-out design and top-notch construction. It's made of a semi-rigid rubber for protection from bumps and abrasion. It has a sleek minimalist design that slides easily into a pocket, yet has an unprecedented grip enhanced by PMAG®-style ribs. It's made in the USA and has an MSRP of only $16.95.
Although the Field Case features a snap-on design that allows easy installation and removal, I don't want to give up the protection it provides in the field. So for me, a port extender is the obvious choice for use with the FLIR ONE.
SUMMING UP
The new FLIR ONE clearly dominates the competition in its price range in terms of performance. While it may not meet everyone's needs, it offers some innovative features that put it in a class of its own. And having a thermal imager small enough to carry in a shirt pocket opens up a world of possibilities.
The FLIR ONE has received a number of awards, including the prestigious and highly competitive Consumer Technology Association 2016 CES Innovation Award in the Wireless Handset Accessories category.
Each FLIR ONE comes boxed with a thermal camera charging cable, hard rubber protective case, and lanyard. It's warranted against defects in materials and workmanship for one year, or 18 months with registration.