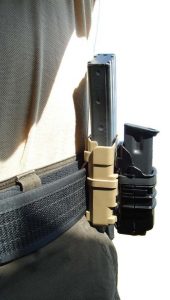 Some of the most valuable real estate on the planet is on a police officer's belt or increasingly, his external vest carrier. With the expansion of less-lethal options, all officers—but particularly those of smaller stature— are running out of room. They have to carry a handgun, two spare magazines, multiple handcuffs, radio, baton, OC spray, Taser, cell phone, recorder, Nitrile gloves, CPR mask, notebook, and more.
And since law enforcement is completely unpredictable, none of it can be carried in a backpack or courier bag. It all must be instantly available.
With the increase in active-shooter events has come the advent of the patrol rifle. The fact is that the only ammo readily available will be that attached to the rifle or officer. That bag of loaded magazines on the passenger seat is likely to remain there during a high-stress incident, when time is vital.
With more stuff than belt space, rather than trying to cram more onto the belt, ITW Military Products' solution is to move outward. Their FastMag™ system uses the available space more efficiently. Originally designed for military use, FastMag is now available to police officers and private citizens, so they too can easily access their gear.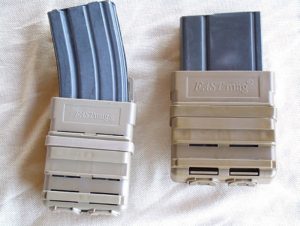 The base is a magazine pouch for your rifle magazine in the caliber of your choice (FastMag for 5.56mm, FastMag Heavy for 7.62mm NATO). This attaches to your belt or vest with flexible polymer straps that are fastened to hooks on the bottom of the pouch. You may need tools to attach them (I did), but once they are on, they stay there! The magazine is retained by a rubbery substance inside the pouch, which leaves half of the magazine exposed for removal. A strong tug frees the magazine completely—no straps or covers to move first.
The best part of this system is that the front of the pouch is also set up to accept other pouches—rifle or pistol. If you anticipate needing more than one rifle magazine, just add one to the front of your FastMag pouch.
If, as is far more likely, you need another pistol magazine or two, you can add those to the front of the pouch. At this time the pouches are only available for double-column magazines.
If you wear a MOLLE/PALS vest, all FastMag models are available in a special configuration for even greater stability.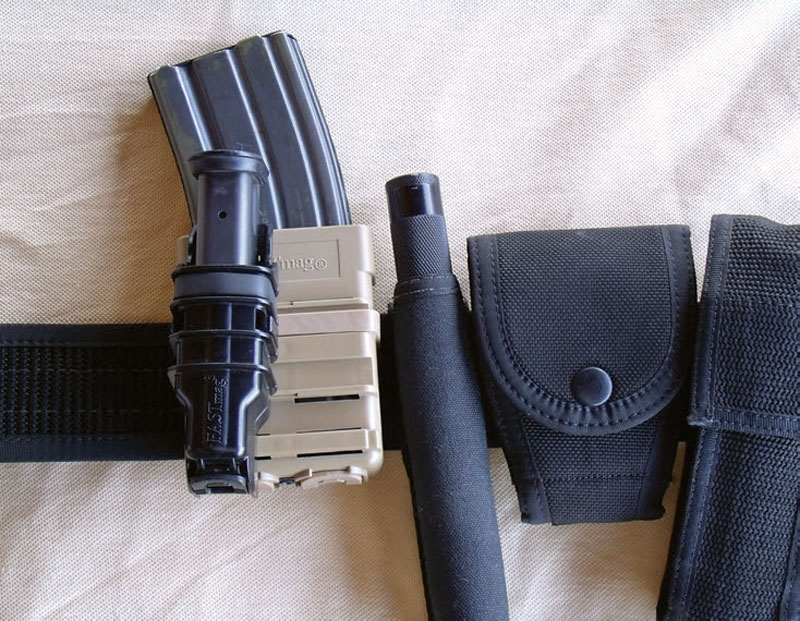 Retention of the pistol mags is just as secure as the rifle mags, using a rubbery insert inside the pouch. A pull on either magazine, rifle or pistol, frees it for instant use. I think two layers—one rifle mag and either another rifle mag or two pistol mags—would be enough on any belt. Adding another layer would be too thick for any use I can envision.
I have been using this system for several months, including at a couple of rifle/pistol matches. I used the rifle FastMag to feed my M4, with a single pistol pouch mounted outboard for my SIG 228 magazine. The magazines stayed perfectly in place during some moderate physical activity, but released as fast as my competition pouches when needed.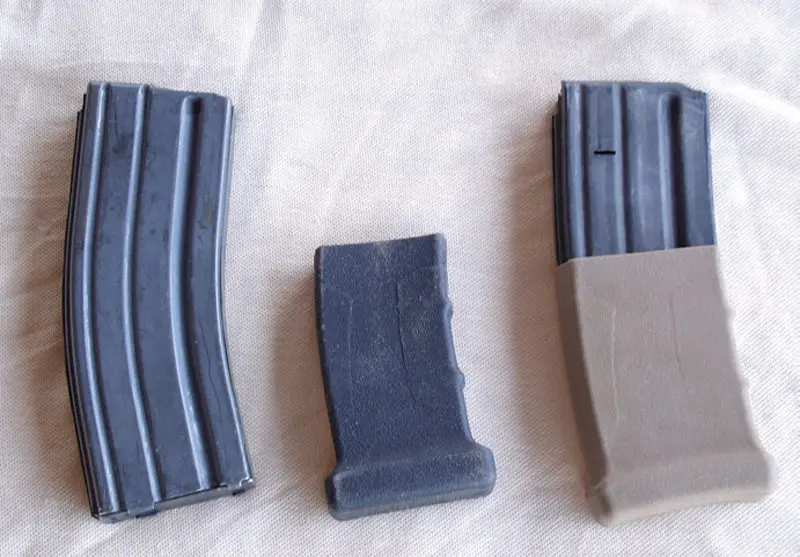 Another ITW product to consider in conjunction with the FastMag pouch is their magazine boot for rifle magazines. Made of a rubbery polymer, the MagBoot slips over an aluminum M4 magazine with just a bit of effort, but really stays in place. The portion on the magazine provides a much better grip than a smooth magazine, even with wet or cold hands. A built-in base pad protects the mag if you need to drop it. If you use the magazine of your M4 as a forward grip, this is just the ticket in the wet, muddy and cold seasons—but I intend to use it year round.