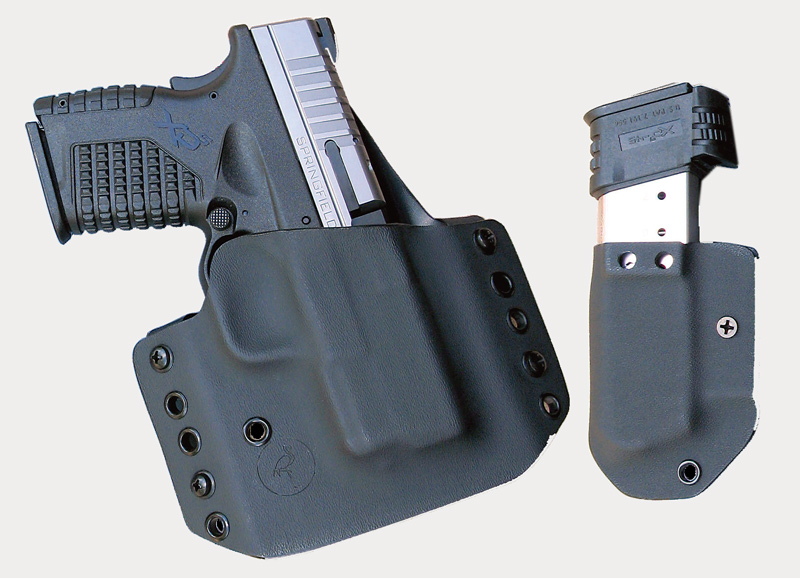 Springfield Armory (SA) has effectively ended one contentious debate by ballistic battlers over concealable handguns being relegated to smaller calibers and therefore worthless in the eyes of big-bore enthusiasts.
With SA's introduction of the single-stack .45 ACP XD-S, heavy caliber purists can now acquire a pistol in a subcompact package that is marginally larger and heavier than many 9mms and .380s. In fact, it is the same size as its 9x19mm XD-S sibling but two ounces lighter with magazine.
Experienced shooters will warn novices that such a combination of small size, light weight, and big caliber will result in recoil so harsh that its practicality will be nullified. Surprisingly, nothing could be farther from the truth. Due to its design, engineering, and polymer frame, the XD-S accommodates recoil and handles like a larger pistol.
This is not to intimate that Newtonian physics have been cancelled here. You definitely know it when you touch off a .45 ACP in the XD-S regardless of pressure rating, but gun gymnastics appear to be no greater than the classic all-steel 1911. For those who prefer more capacity, the XD-S is now available in Parabellum and still competes with the small nines for compactness.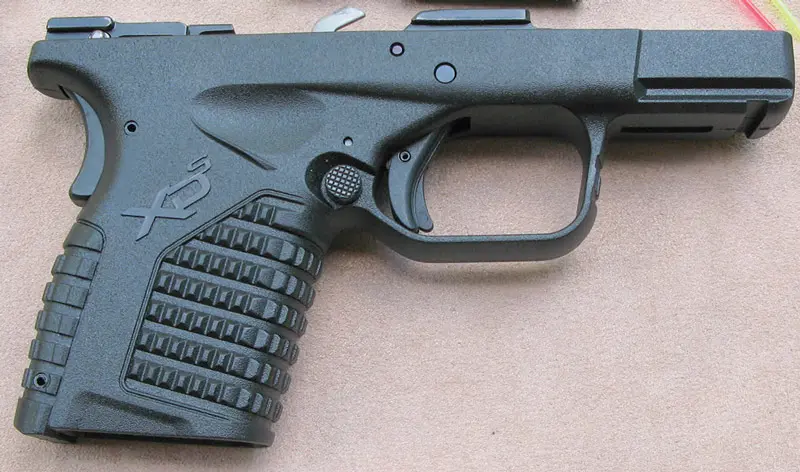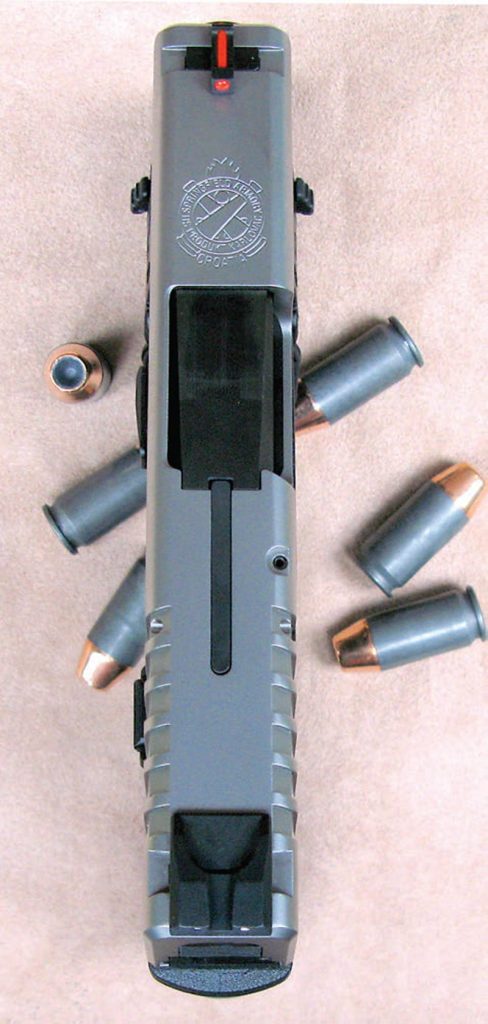 COMPLETE PACKAGE
All XD models are packaged in a handsome and sturdy plastic attaché case for secure transport. The case contains all necessary and good-to-have accessories for out-of-the-box employment. An additional five-round magazine, smaller sized removable backstrap, spare fiber-optic rods, holster and magazine pouch make up the operational ensemble. Cable security lock, spent brass case sample, bore brush, and manual round out the kit. Add an optional X-Tension magazine and payload increases to eight rounds. This gives 1911 capacities in a much smaller, lighter, and handier package.
FLAT FRAME FEATURES
The XD-S's polymer frame exhibits good natural pointing ergonomics. Close your eyes, punch out the gun, and the sights are there.
Slide and grip width come in at just under a very flat inch. Fore and aft grip length with the large sized interchangeable backstrap in place is 2.9 inches. Its short handle permits only a two finger hold, but with its very aggressive checkering, control is quite good. Add the above referenced X-Tension magazine and any stunted grip concerns disappear.
Its grip safety is intuitive and all it requires is a proper hold to deactivate. Can this safety lever be missed and failures to fire occur? Of course anything can happen, but the XD-S's ergonomics seem to shunt the hand into and high on the grip, so while I agree with some gunners who don't like grip safeties that it could happen, it will probably be quite rare.
Rather than juggle and regrip while en route to a target to remediate a low grip on the piece, I simply push down on the top of the slide with my off hand and properly seat the pistol. With a sextet of "fast, fat friends" on board, the XD-S's height is 4.4 inches and overall length stretches to 6.3 inches.
Other frame-mounted controls consist of ambidextrous magazine releases, for which the receiver is relieved for easier access or to act as thumb rests, a sixpound short-reset Ultra Safety Assurance Action Trigger with digital release, slide stop/release, and slide disassembly lever. An under-barrel single-slot Picatinny rail accepts aftermarket lights and laser shooting aids.
In addition to the two external manual safeties, an internal striker block safety prevents firing until the grip safety is depressed and the trigger pressed.
FLAT SLIDE FEATURES
Hands down, this is a well-made and rugged pistol that will serve its owner well for many years. Although initial XD-S guns were made with black forgedsteel Melonite-finished slides, my sample was the newer Bi Tone matte stainless steel version. Besides looking good, this non-glare finish is more resistant to scratching and holster burn than its black sibling. Black components, such as its sights and loaded chamber indicator, also stand out in more recognizable contrast.
Of course, bright guns are easier to spot in situations where stealth is critical, but when I pursued fugitives, some would remark when captured that my stainless bull-barreled .357 Magnum revolver really got their attention and looked huge and intimidating.
Rear slide serrations are prominent enough to grasp and manipulate with wet hands even with the relatively heavy dual recoil spring. Depending on the load, ejection can vary from directly overhead to the starboard side, but is positive and due primarily to its substantial external extractor. This contributed to the reliable functioning, which was 100%, including steel-cased ammunition.
SIGHT CONCERNS
Dovetailed fixed metal sights crown the slide with a front fiber optic that is paired with a rear sloped Novak-style aperture with white dots located to afford maximum sight radius. These sights offer an excellent sight picture and the rear can be drifted for lateral corrections.
However, on a fighting pistol I would rather see an angled fiber-optic version such as those produced by D.R. Middlebrooks of Tactical Shooting to frustrate snagging and a Heine-style Shield Ledge rear sight for one-handed manipulations. Also located on the dorsal side of the slide is a loaded chamber indicator that may be considered a passive safety.
The XD-S's cold-hammer-forged linkless barrel has a fully supported chamber with Melonite finish and 1:16 twist. Fit and finish of the slide assembly are very good externally and internally. Barrel lockup is snug, with no detectable movement at the breech or muzzle. The barrel is slightly belled at its exit to aid in its consistent mating with the slide, which in turn aids in accuracy.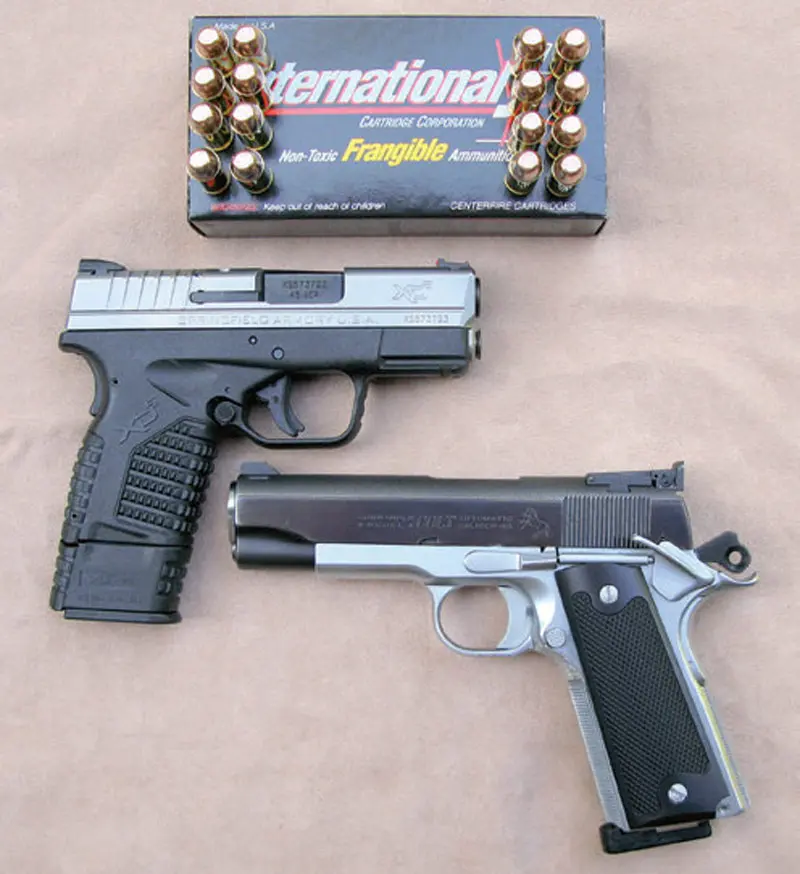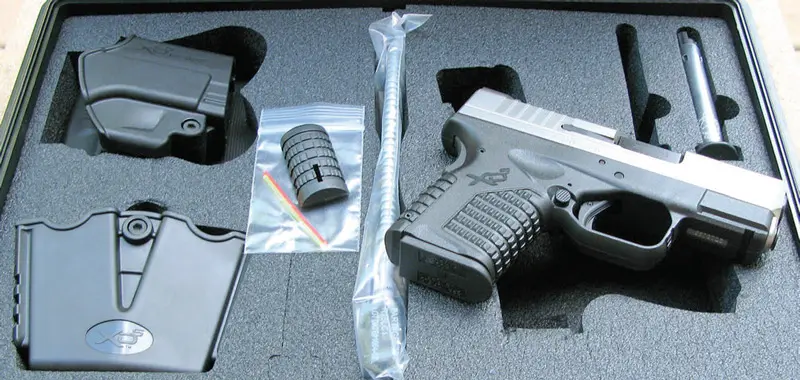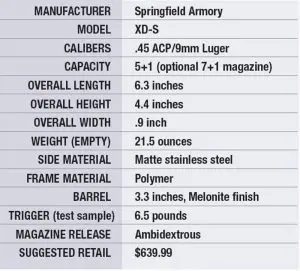 BALLISTIC PERFORMANCE
I selected six different loads ranging from 155 to 230 grains for test and evaluation. The 3.3-inch barrel appeared to like Remington 180-grain JHP (jacketed hollow point) at 900+ feet per second (fps). Its five-round group at 15 yards was under an inch. But from the unyielding bench and handheld rest, recoil was pronounced, and this load produced dramatic muzzle flash. It should be noted that under the stress of combat, these phenomena are usually ignored by the combatant.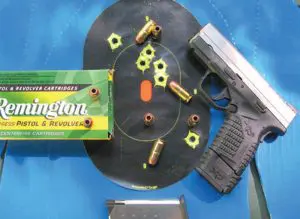 Velocity honors went to Triton (no longer available) 165-grain +P Quick Shok Hollow Point, which exceeded 1,100 fps. This round also exhibited noticeable muzzle flash and sharp recoil. International's 155-grain Green, Fragmenting Point ammunition was the most pleasant to shoot. Felt recoil was greatly reduced when standing and firing from a one- or two-handed position. Still unfamiliar with the piece, I managed to dump a six-round offhand string into a 1.53- inch four-round group at 25 yards, but north and south flyers opened it up to six inches. I think the latter two errant rounds were due to shooter error.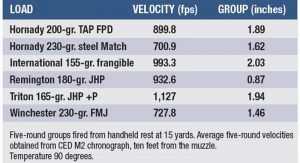 SHAZAM
This is a good belly gun that can take care of business out to 25 yards providing the shooter does his job. But where speed of shot delivery becomes a critical factor, seven yards was my limit for controlled pairs that were separated by an interval of .20 second or below and still able to cover the two-shot group with my hand. The main culprit responsible for excessive bullet spread was unsatisfactory trigger control, which was handicapped by a relatively heavy lever.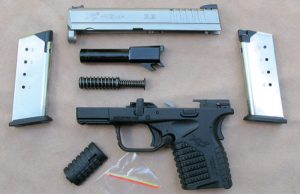 When I defaulted to my old verbal cadence for a double tap, Captain Marvel's "Shazam," it allowed the XD-S's muzzle to re-index the target without having to track the sights. I could keep my eyes on the threat while letting the red dot fall back into my field of view. Rhythm/cadence shooting is usually not a good idea, because it is very firearm and load specific, but it worked for me with the XD-S. Interestingly, I found that recoil dwell was about the same with one or two hands grasping the gun.
BLACK FLAMINGO TACTICAL HOLSTERS
Holster manufacturers are scrambling to meet the demand for this firearm. I am fortunate to have one of the finest Kydex holster makers in my state right near me. Lucas DeBruhl of Black Flamingo Tactical made a customized scabbard for the little blaster. His handsome holsters are Level I security and rely on a glove-like fit for excellent retention.
When belted in place, weight distribution is excellent, and I hardly knew that the XD-S was present. The draw requires an aggressive and fast pull to pop the pistol from the holster's grasp. Otherwise, you will be momentarily pulling up your belt and trousers as well. Various rake angles are available to suit the customer's preference and, if you require a special design, Lucas will do his best to give you personal attention.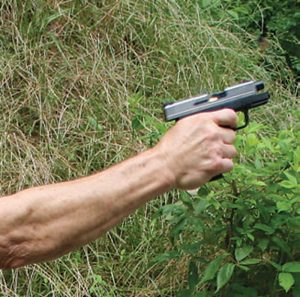 CONCLUSIONS
Unless high capacity is your only bag, this subcompact and flat firearm would make a superb primary concealed carry piece for the private citizen and a perfect-sized backup gun for the law enforcement officer. It favorably compares in size to small nines and snub-nosed revolvers, but has a higher degree of potency. My Novak Colt Commander has the same capacity as the XD-S with X-Tension magazine, but the latter pistol is almost a pound lighter.
Logically, this is not a gun for a newly frocked concealed-carry shooter. It is not complicated, but its size and caliber can be a little too punishing for the inexperienced gunperson to tolerate. Furthermore, in its most concealable configuration, XD-S payload is limited, so bullet placement is critical and rounds cannot be wasted.
This is a small gun that will not only be carried a lot, but also shot frequently, with skill enhancements resulting. Springfield Armory hit a small arms home run with the XD-S.