As any front line soldier knows, if you have jungle rot, corns, bunions or athlete's foot, you aren't going anywhere.
Which means if you're going to be marching, hiking or merely spending much of your time on your feet, you'd better have comfortable shoes or boots.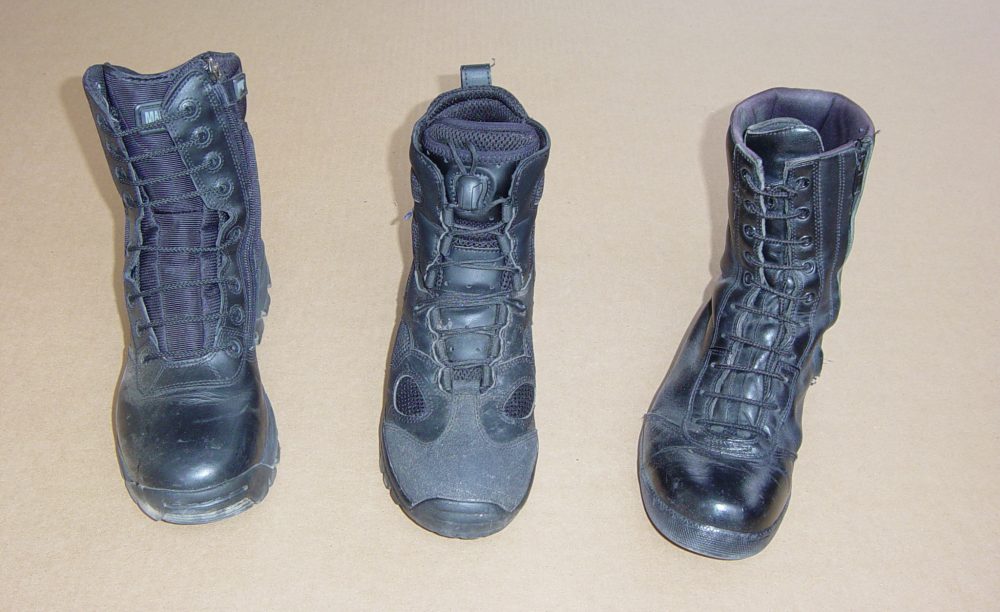 Blackhawk's boot (center) flanked by HiTech Magnum (left) and Ranier Responder, showing comparative external dimensions and some of their respective features. (All three boots shown are U.S. size 8.)
---
For the purposes of this review, the primary difference between comfortable shoes—as opposed to boots—is the ankle support provided by the latter.
Once you become accustomed to one type, style and brand of boot, changing to something else doesn't come easy, and if you have to change, secondary considerations—like having additional component material to which you can attach extra gear, like a knife or emergency first-aid equipment—are high on the list.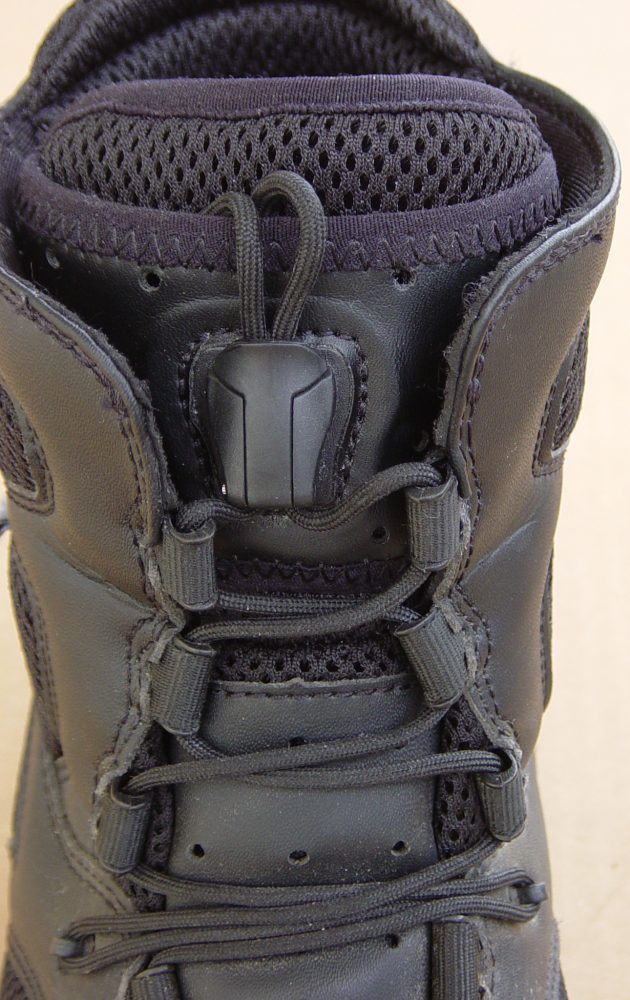 Having worn only side-zippered Ranier Responders for over 15 years, yours truly was faced with a double whammy about 18 months ago: first the news that the factory was closing down for family reasons, and consequently I was faced with the daunting task of finding a replacement boot after so many years. Securing the last three available pairs from Ranier was good news, but after checking a pedometer and realizing I was covering approximately 11 miles every range training day, it didn't take too much to foresee the inevitable if I was going to be blessed breathing oxygen for awhile.
Which finally led—after trial and error—to Blackhawk's Warrior Wear line of footwear; specifically, the #83BT00 Light Assault Boot. Not only has it proven to be a suitable replacement, it also has a couple of nifty additional accoutrements.
My personal non-negotiable footwear requirements for 40 years have been complex: comfort, light weight, ankle support, durability, emergency quick-removal availability and water-resistance—and the Light Assault boot has them all.
The Blackhawk Boot has all of the above, with a Dri-Lex® inner lining that quickly wicks away any absorbed water and breathes through a nylon mesh/rubberized heel and toe combination. It even has aerating perforations in the tongue. The insole is waterproof, with a removable Ortholite® inner liner, which is washable, while the sole itself is of time-proven Vibram®. The boot also has a water-resistant midsole. If the boot becomes dirty, a quick squirt with the garden hose, 20 minutes in the Arizona sun, and you're back in business.
No, it doesn't have a side-zipper for quick removal, but it does have an ingenious alternative. Supplied with a horizontally straight-laced (no pun intended), as opposed to a criss-cross style lace-up pattern—allowing for quick emergency razor-slash removal—the top of the boot tongue has an integral "lace-lock." Push down and the lace is locked in position. Lift up the latch and the lace tension is eased on the top eyelets for removal.
And last but not least, for the fastidious, an integral pocket is incorporated into the tongue, into which the ends of the laces can be tucked. (A caveat for law enforcement officers: this pocket is about two inches by two inches, almost indiscernible, and could hold/secrete something more than a couple of loose lace ends.)
Suggested retail of the Light Assault Boot is $169.95. They are available in black and Coyote Tan.
In summation, this is the only pair of boots this author has found to replace 15-plus-year favorites, and I personally have no hesitation in recommending them for anything ranging from a family camping trip to literally a full-blown waterborne battle operation.
Finally I've had to walk a mile in someone else's shoes.
SOURCE:
Blackhawk Products Group
Dept. S.W.A.T.
4850 Brookside Court
Norfolk, VA 23502-2052
(800) 694-5263
www.Blackhawk.com