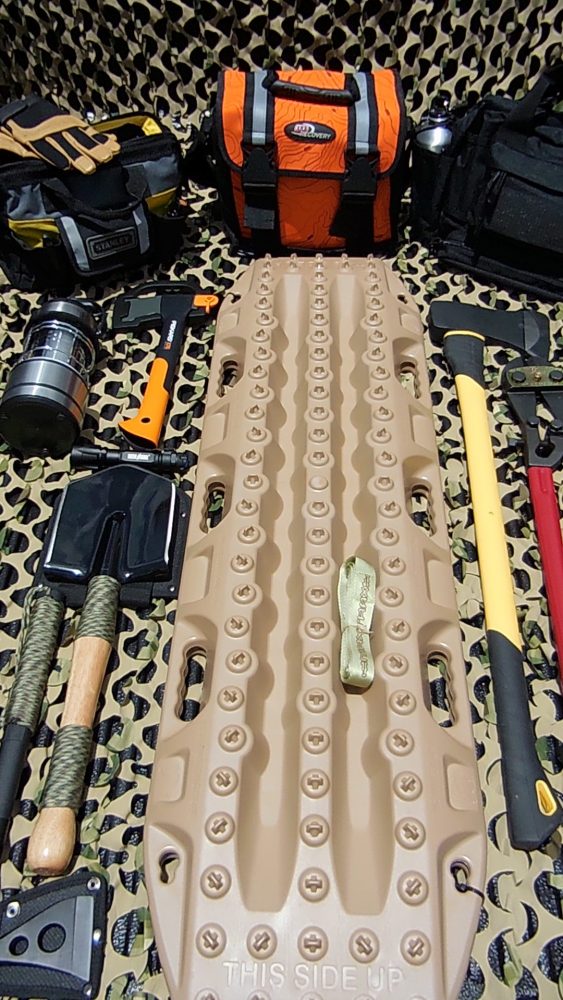 An urban disaster or public emergency that forces an evacuation is about as real as it gets. With little or no warning, you may find yourself in the middle of a very ugly situation. If you read S.W.A.T. Magazine on a regular basis, you are most likely very well prepared—your vehicle is ready, supplies are staged for quick deployment, and you have a viable get-out-of-Dodge plan.
But even with a high level of preparation, getting yourself out of a heavily congested urban area won't be easy. You should expect that all the major routes out of town will be quickly overwhelmed with nightmarish traffic, emergency vehicles, and panicked hordes trying to get out by any means necessary. Unless you have somehow managed to get a head start on everybody else (unlikely), or you have your own private aircraft (even more unlikely), you'll face a formidable task.
To get away from the madness, your plan should include an off-road component, but going off-road is not without significant challenges. When the moment comes to hit the road, or no road at all, you'll need to have—and know how to use—the tools and gear to keep you rolling toward safety, no matter what the journey throws your way.
EMERGENCY EVACUATION AND SELF-RESCUE
Having a road-ready vehicle, preferably one with four-wheel drive, is a great start (See Road-Ready Survival, October 2014 S.W.A.T.). But being road-ready may only get you so far. During a crisis, you're on your own. There will be no roadside service during the apocalypse. You must become your very own roadside service on steroids. Luckily, a number of viable options exist. We've compiled a list of the top five must-have self-rescue tools/gear.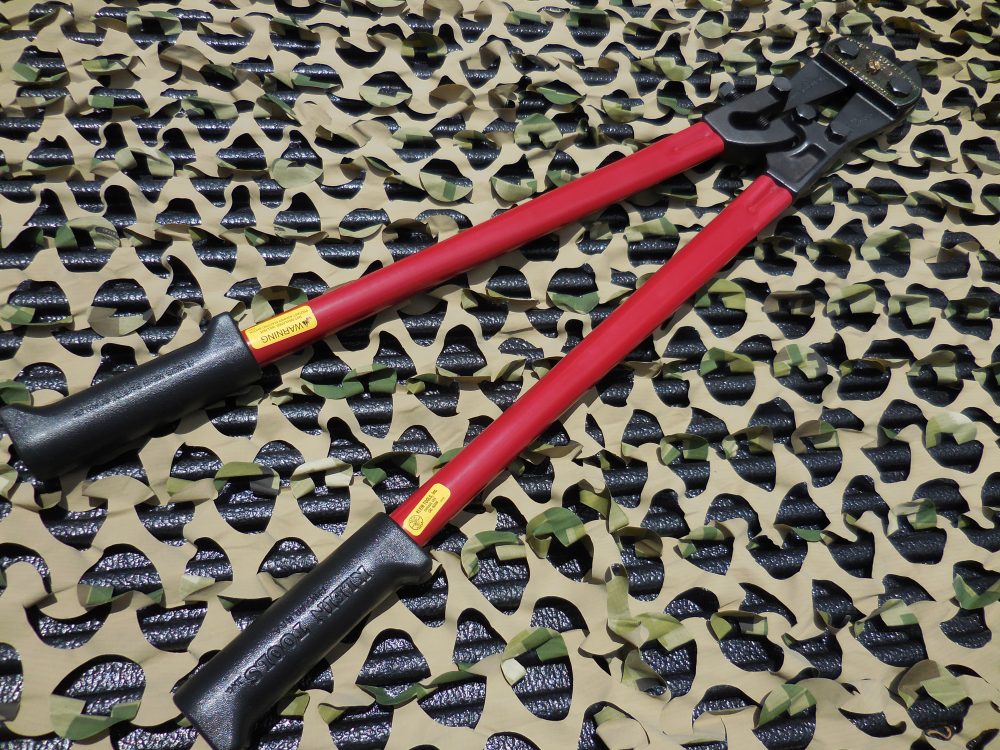 Expect obstacles when you leave the road system. High-quality bolt-cutters can make quick work of many chains, padlocks, cables or heavy wire.
---
THE SELF-RESCUE KIT
Since we never really know what we'll need, or when we'll need it, most of us prefer to have as much gear as possible. What we actually end up bringing to the party will always be a compromise among space, weight and utility. As such, compiling our list was not easy, but we were committed to keeping it manageable and realistic. We wanted the essential gear and nothing more—after all, we need to leave room for food, water, medical/first aid, security/self-defense, extra gasoline, and other essentials.
Our kit had to be portable, lightweight, practical, effective, preferably containing multipurpose items, relatively inexpensive, and capable of being used without modifications to our vehicle. After much deliberation, we came up with the five must-have items for self-rescue:
1. MaxTrax vehicle recovery device: During an emergency evacuation, having your vehicle stuck in a remote location, far from assistance, can quickly bring an end to your journey, or worse yet, become a life-threatening situation. MaxTrax is a safe, lightweight, simple multi-purpose vehicle recovery system that works alone or in combination with other gear to provide amazing traction and stability in sand, mud, snow or on any other terrain where loss of traction is an issue.
MaxTrax is designed and engineered to safely provide the necessary traction to help extract a stranded vehicle. It can be carried, deployed and used even if you're riding solo. When not in use, MaxTrax can be stored inside your vehicle or strapped to a roof rack or an external mounting bracket. Gone are the days of trying to find improvised (often dangerous) objects to wedge under your tires for traction.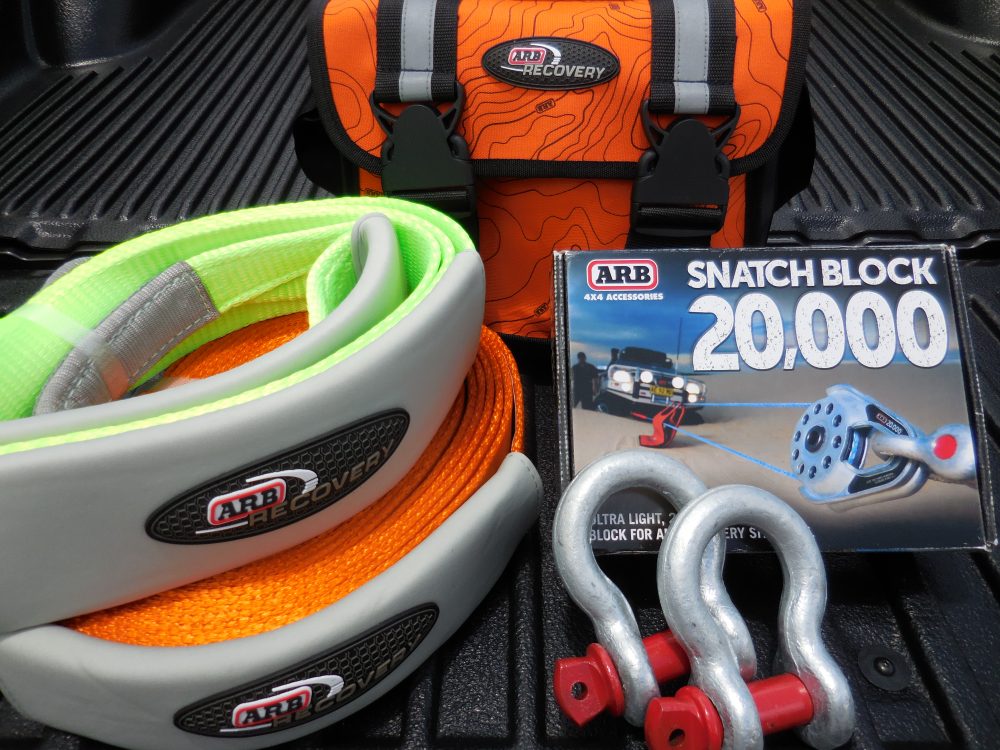 Professional vehicle recovery kit will be worth its weight in gold during an evacuation. When properly used with a winch or the assistance of another vehicle, this gear can help save your backside. All-in-one ARB Essentials Recovery Kit (RK11) is a good option.
---
2. Vehicle recovery kit: Many people incorrectly believe that a 4X4 vehicle is all they need to get through tough terrain. The reality is that even the best 4X4 can get stuck or seriously dug in. Not having the appropriate gear, or using it incorrectly, can turn a routine recovery into a medical emergency. The ARB Essentials Recovery Kit (RK11) is a pre-assembled boxed kit that contains all the gear you need for a simple snatch recovery, or a more serious winch rescue, in one rugged, easy-to-store bag. The ARB (RK11) kit is recommended for vehicles weighing 5,600 pounds and under.
3. Shovel and axe: Have to dig yourself out of a jam? The Cold Steel Special Forces Shovel is compact, durable, and multipurpose. It can be used to move dirt, sand and rocks out of your way, but it can also be used to chop wood or for self-defense. For more demanding jobs, consider carrying a small hatchet and a full-size axe.
4. Bolt cutters: A high-quality set of bolt cutters will help you make quick work of illegal fences and chained gates. Unfortunately, sometimes people overstep their bounds and take it upon themselves to fence in or gate-down public access roads and lands, especially during a disaster when they may be fearful of outsiders or looters. When you need a heavy-duty cutting tool, you can't beat bolt cutters (minimum 30 inch) to get the job done. Look for a solid tool with plenty of leverage and cutting power. With tools you usually get what you pay for, so avoid inexpensive, cheaply made imitations.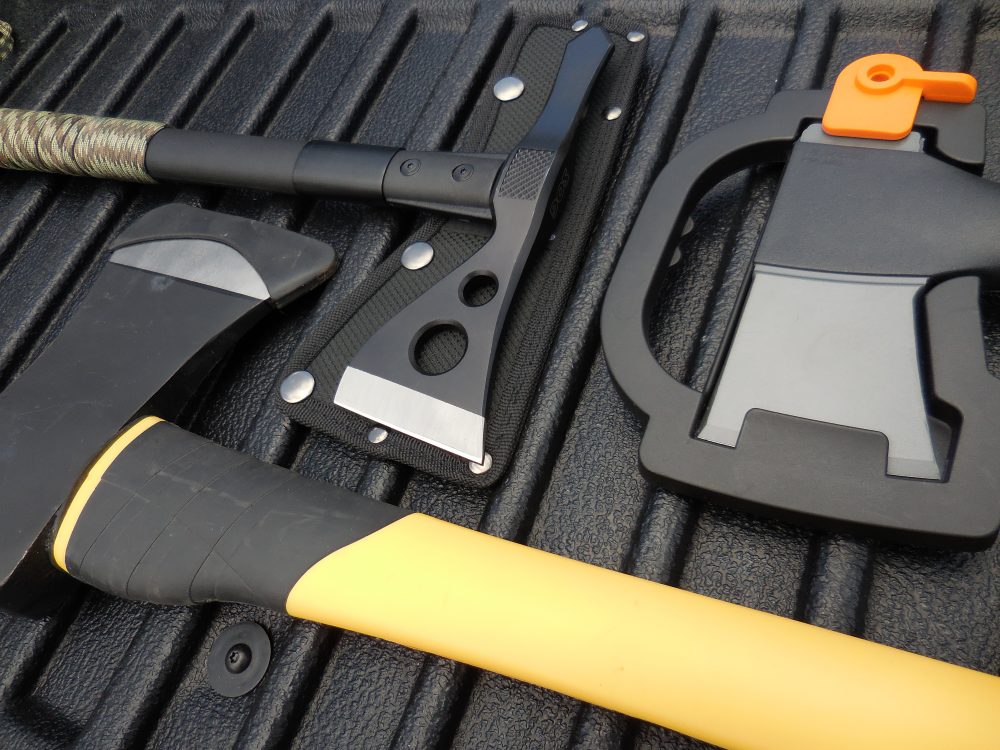 Axes have been used for millennia. A good axe can make quick work of a fallen branch or dead tree that's blocking your way. An axe is lightweight, effective, doesn't require fuel, and has no moving parts.
---
5. Hand tools and emergency lighting: Have an assortment of the most commonly used hand tools, along with some serious lighting options. Some of this gear should already be in your vehicle emergency kit, but becomes even more important in this scenario. Pack a small heavy-duty bag with headlamps, LED flashlights, and a selection of quality hand tools, including gloves and duct/electrical tape. For heavy-duty lighting, the Brite-Strike Tactical Touch flashlight is waterproof, rechargeable, requires only one hand to operate in all modes, throws out a blinding 800 lumens, and runs for up to eight hours on low mode and two hours on high mode.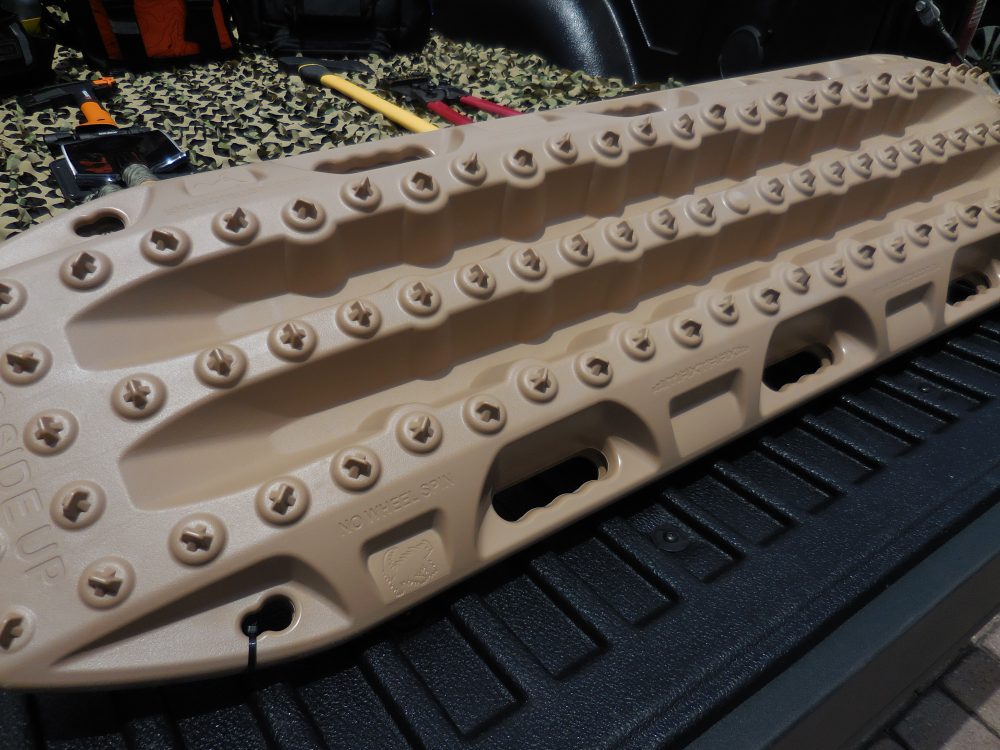 Whether it's sand, snow, loose gravel or mud, loss of traction will test your vehicle's ability to keep rolling forward. Having a safe, simple, and reliable vehicle extraction and recovery device is key. Each individual MaxTrax weighs just 7.9 pounds and can be easily manipulated by one person.
---
SURVIVAL ESSENTIALS
Those are the Big Five for self-rescue, but no kit is complete without the survival essentials. Here is an abbreviated list of supplies to round out your preparations:
First-aid kit: Compact kit with a small supply of everything you'll need, including the medication you or anyone in your group takes on a regular basis.
High-output LED lights: Brite-Strike All Purpose Adhesive Lights Stripes (APALS) represent the next generation of emergency lighting. APALS are waterproof, shockproof, and have a runtime of 80+ hours. The disposable APALS are low cost, reliable, and long lasting. The solar-powered APALS feature a 40-lumen LED and use hybrid self-contained solar panels to capture any available light to charge the lithium cells.
Portable radio (hand crank or solar) with extra batteries.
Hard copies of important documents: passport, driver's license, social security card, and concealed weapons permit. During an emergency evacuation, you may encounter law enforcement roadblocks and/or check points. To avoid delays, be prepared to ID yourself and other vehicle occupants.
Contact information: list of important and emergency contact phone numbers and addresses. We all have our contacts programmed into our cell phones, but the phone may die or be lost.
Pre-paid calling card. Pay phones are an uncommon sight nowadays, but some still exist. After a disaster, cell service may be compromised or your phone may be lost or damaged, but some landlines may be working. Having a pre-paid calling card can come in very handy.
Extra gasoline in approved containers.
In colder climates, add weather-appropriate clothing and accessories, gloves, hats, boots, hand warmers, and insulated sleeping bag.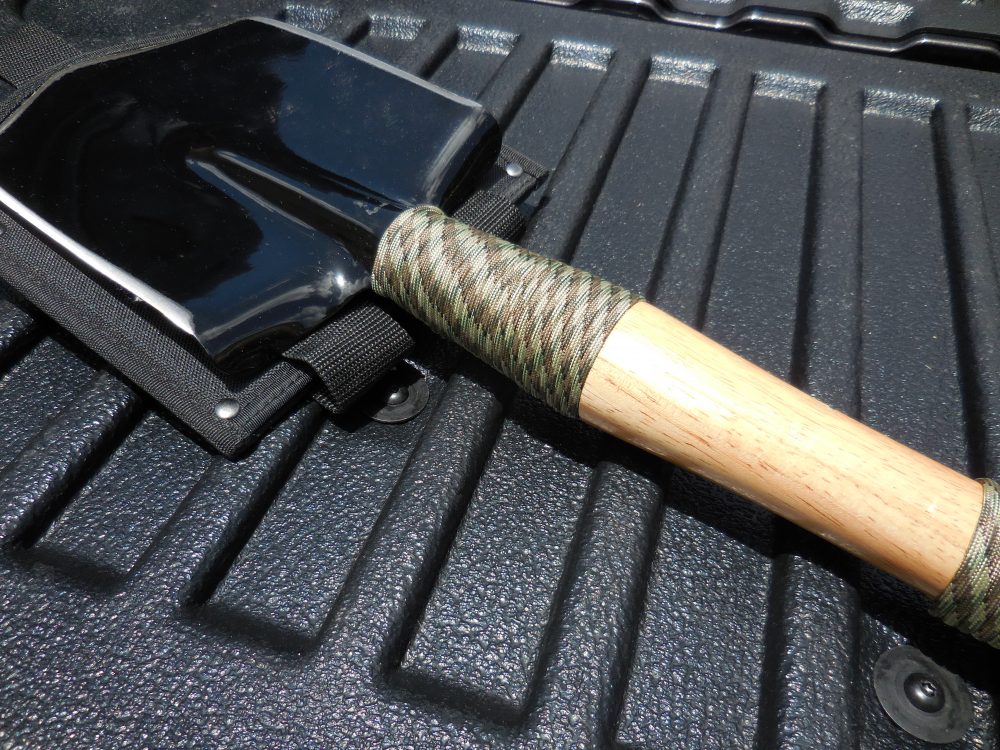 Small, lightweight shovel can help you maneuver around tires and under the chassis of your vehicle. A good 550 paracord wrap can help provide a more secure grip.
---
WRAP-UP
While getting off the beaten path may seem like a viable option, you must be prepared for the unique challenges you will face. Have a plan and the appropriate gear, and know how to use it safely and effectively. Plan for the unexpected and make sure to test your plans, gear and equipment before your life actually depends on it.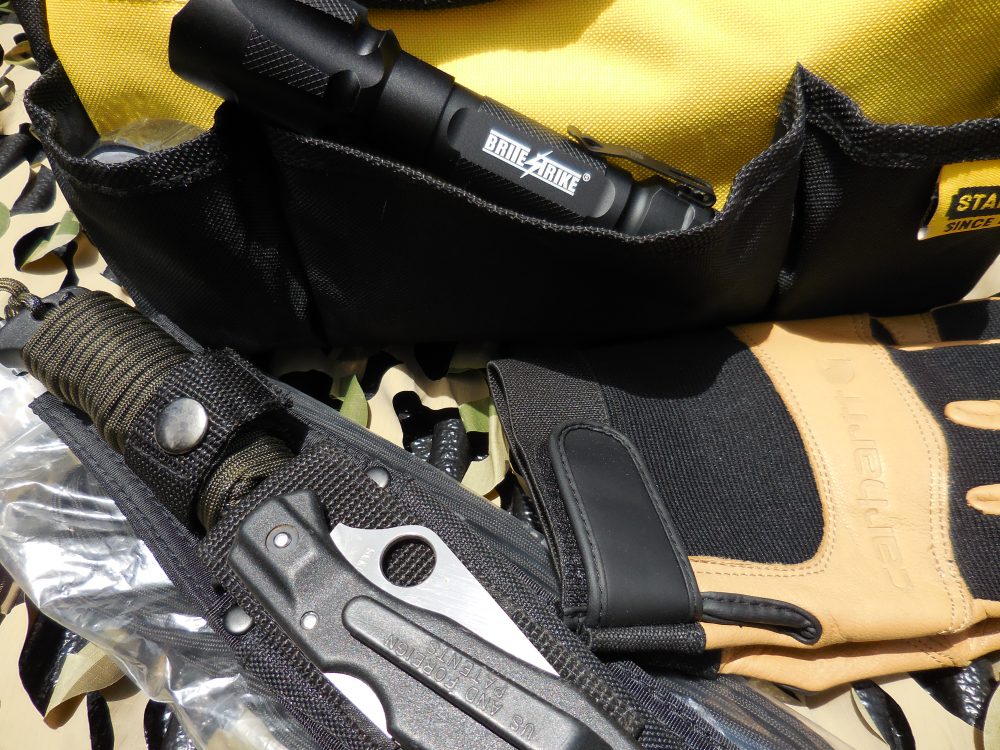 Basic assortment of hand tools, knives, and gloves rounds out your kit.
---
EMERGENCY VEHICLE KIT
Hitting the road doesn't mean you need to leave the essentials behind—always keep an emergency kit in your vehicle. Pack lighter and smarter, and make every ounce count. Use the following list to get started:
Flashlight, lantern, and a generous supply of extra batteries. Consider solar powered and rechargeable options.
Basic hand tools: screwdrivers, pliers, wrenches, socket set, etc.
Battery jumper cables at least eight to 12 feet long.
Impact-resistant eye protection and heavy-duty gloves.
Folding knife and multi-tool.
Electrical/duct tape and tie wraps: these tapes can repair just about anything. Tie wraps can rig or secure a temporary fix.
Space blankets: especially in cold climates, but even in temperate zones, these blankets have many survival uses.
Map of expected travel area, compass, notepad, and pen: in case you get lost. Also keep an extra pair of reading glasses in your kit, as a map is of little use if you can't see it.
Water and non-perishable emergency food: lightweight open-and-eat, calorie-dense food is best. Rotate often and store enough for at least two people for 72 hours.
Empty five-gallon gas can and siphon: during a crisis, gas may be difficult to find and a container to carry that gas may be even more difficult to secure.
Extra cash: about $450 in small bills and some coins.
550 paracord: at least 100 feet.
Fire extinguisher: Have at least one in an easily accessible location.
Extra set of warm clothing, hat and gloves: store in a waterproof re-sealable bag.
Extra pair of well-worn, comfortable walking shoes and socks: you never know when you'll need to change shoes.
Towels: multiple uses.
Self-defense tools: to help protect against threats, human or other.
Whistle, fire starter, and signal mirror: especially if you travel in rural areas.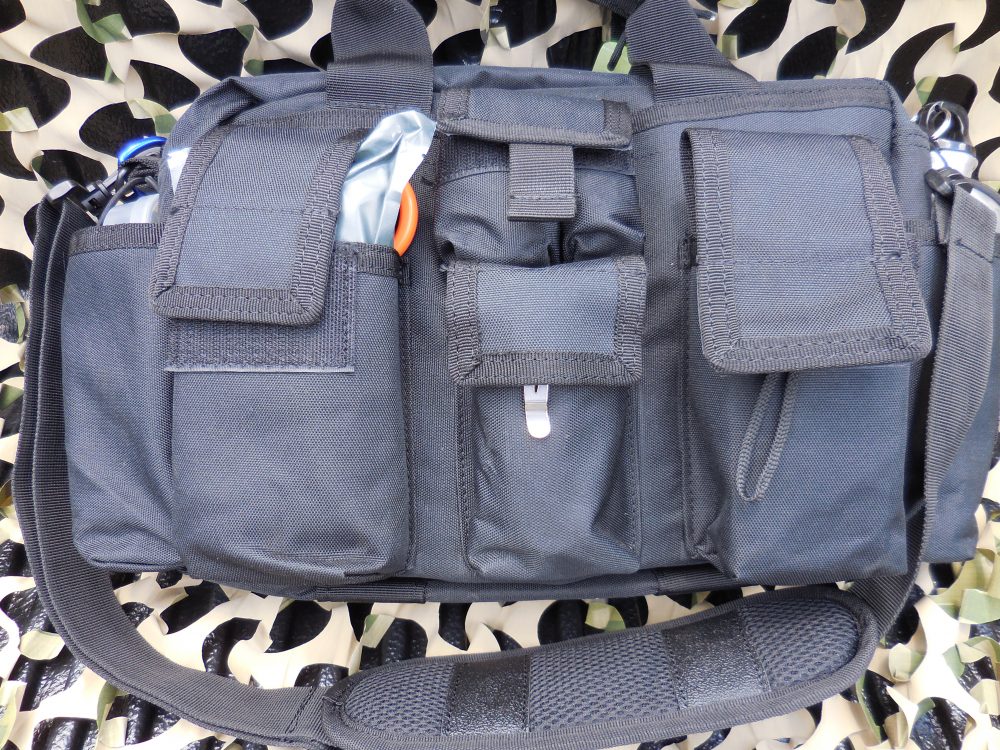 Use a compact, heavy-duty bag to store and organize your vehicle's emergency gear and supplies.
---
Richard Duarte is a practicing attorney and teaches and consults in the areas of urban survival planning and preparation. He is the author of Surviving Doomsday: A Guide for Surviving an Urban Disaster. For the latest news and updates, connect with Richard on www.survivingdoomsdaythebook.com.
SOURCES
ARB 4X4 ACCESSORIES
(866) 293-9078
www.arbusa.com
BRITE-STRIKE
(508) 746-8701
www.brite-strike.com
COLD STEEL
(800) 255-4716
www.coldsteel.com
MAXTRAX
(316) 213-2482
www.maxtraxamerica.com