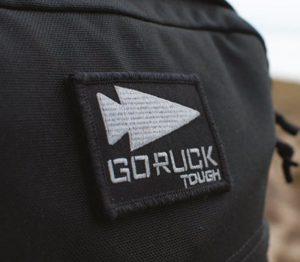 IT'S around 0300, give or take a few hours. I'm not really sure. Crawling on my knees down a dirty sidewalk through broken glass, I can't remember ever feeling worse.
To be fair, I'm not supposed to be on my knees. I'm supposed to be doing a bear crawl, but the muscles in my upper body are smoked and I can't seem to support my own weight. And due to not having my pack straps tight enough, my head is still reeling from having 35 pounds of bricks slide forward and slam into the back of it.
This night started about six hours ago. And it is seven hours away from ending, although none of us know that at this point. Time is irrelevant. Pain is constant. And success is measured by the ability to take just one more step. The following thought occurs to me more than once before the night is over: "I paid for this?!"
GORUCK GEAR
I'm participating in my first GORUCK Challenge. It is billed as a team endurance event covering eight to ten hours and ten to 15 miles, and is the brainchild of GORUCK founder Jason McCarthy. McCarthy, a former Special Forces operator, founded GORUCK in 2008 as a gear company, and that is how I initially became aware of them.
For a training mission in South America, I wanted a backpack that would survive the rigors of Third World travel, including carrying heavy loads of ammunition and equipment to the range.
In my experience, most gear is not pushed to its limits, so therefore most reviews are meaningless. If all your pack does is carry your Macbook to the coffee shop, you don't really have worthwhile input into how well it will perform when it matters. Enter GORUCK.
Having used their gear extensively for over a year, I can say I have never found anything better. The specs are familiar: 1000D cordura, YKK zippers, military-grade MOLLE webbing, hydration bladder compatible, etc.
Of course, several companies make packs to these specs. But few of them are made in the USA and offer a lifetime guarantee. Fewer still obsess over the smallest details and go to extraordinary efforts to test these details. And only one has designed a grueling endurance event to ensure that their gear can be counted on to perform under extreme conditions.
Minor things often make the difference. GORUCK knows this and it shows. Whether it is the internal shrinkwrapped 550-cord zipper pulls or the customization available by adding extra pockets both inside and out, it is realworld tested for function first.
Some GORUCK packs have adequate but not excessive MOLLE attachment points on the outside. Some are available without MOLLE, lowering the tactical signature of the bag, if that's a concern in your area of operations. I particularly appreciate the internal MOLLE webbing. While many bags allow external customization, few allow pouches and pockets to be added inside.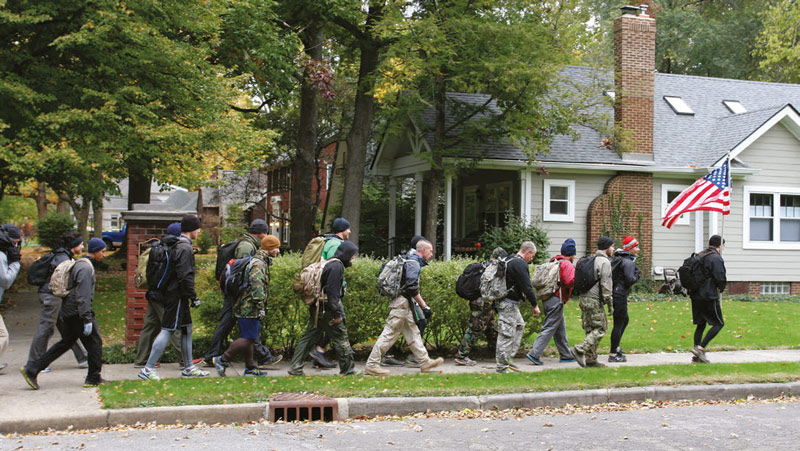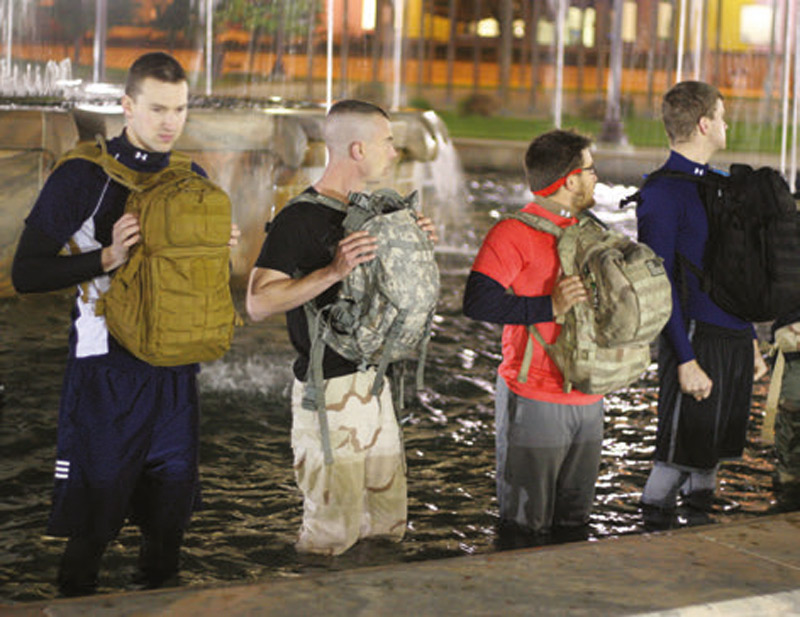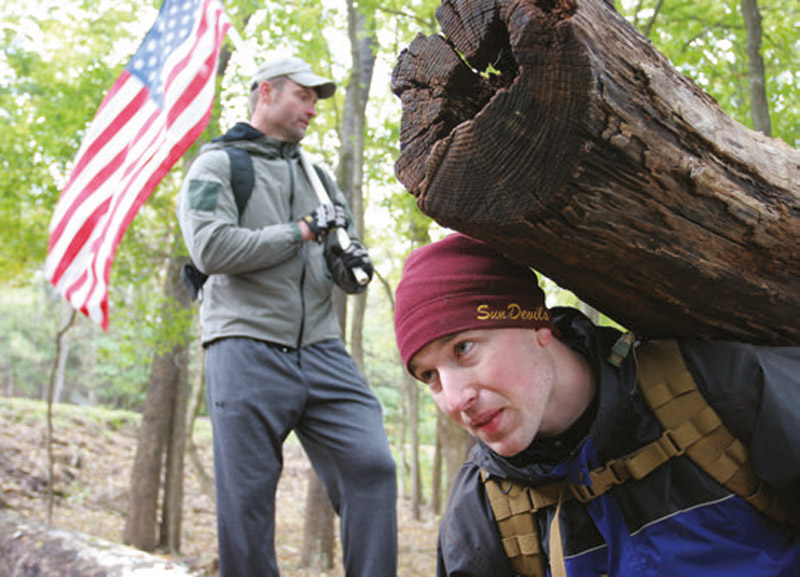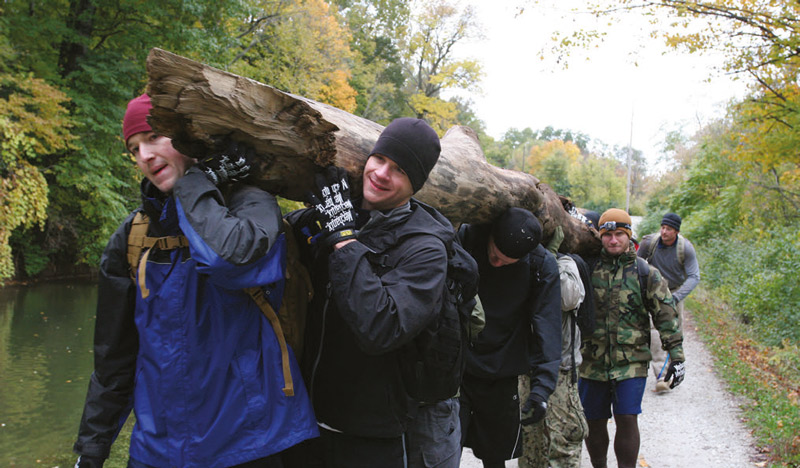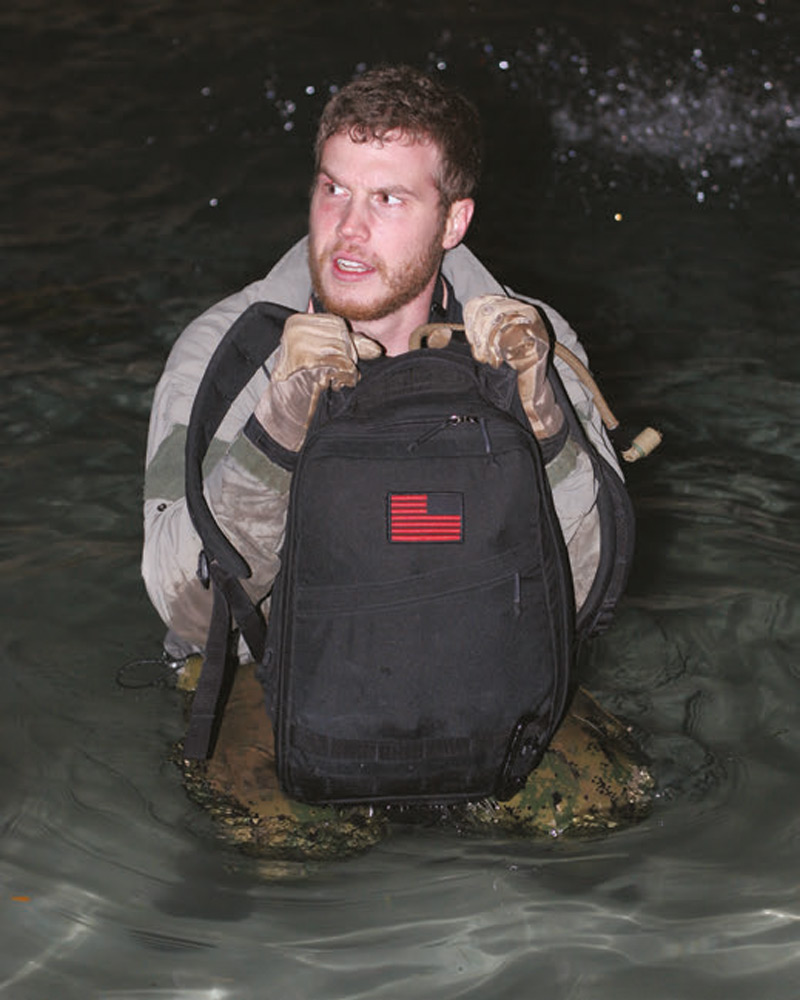 GORUCK CHALLENGE
Then I began reading about these Challenges that GORUCK designed to test their gear. Packs used to carry 800-pound logs. Packs carrying 60 to 70 pounds of gear in Afghanistan. Packs with a lifetime guarantee. Stuff like that. McCarthy designed the GORUCK Challenge (GRC) as the crucible to test his gear before putting it on the market. The GRC soon took on a life of its own and became such a substantial part of their business that it's now difficult to categorize GORUCK as simply a gear company, although they certainly are that.
What can I say, I had to sign up for a Challenge! So where was I? Right, crawling through broken glass at 0300. Let's back up a bit. Class 717 began yesterday at 2100 hours, with 16 of us being "welcomed" with a few hours of some of the most intense PT I've ever experienced (and I've been through a couple of intense four-monthlong LEO academies). Fifteen of us made it through the so-called "Welcome Party" and have been trying to accomplish different physical and mental goals as a team ever since, with varying degrees of success.
A decorated combat veteran from the Special Operations Community leads each class. His job is to dish out an intriguing mix of pain, hardship, punishment, encouragement, motivation, and life lessons. In GORUCK parlance, all this is known simply as "Good Livin'."
Cadre Paul ran our class and made absolutely sure that none of us walked away feeling as if we had been cheated out of our fair share of Good Livin'. It has been said that a GRC will introduce you to yourself. You will learn where your limits are. If your team is working together as they should, you will push through those limits.
I have to admit, I felt like quitting several times during the night. It never got easier. The log never got lighter. And if it were an individual event, I would no doubt have fallen by the wayside. But it is a team event, and my fellow classmates got me through it.
TEAMWORK
The essence of the Challenge can be illustrated in the following anecdote: 12 hours in, Paul decided it was time for sprints. Throughout the night, each member deals with his or her own personal highs and lows. Sometimes you feel strong, but a few minutes later things might not be going so well. This was one of my not-going-so-well times.
I hadn't complained, instead adopting the "suffer in silence" approach. But as we were sprinting, I started vomiting uncontrollably, a pretty tough thing to hide. A teammate saw me struggling, grabbed my pack off me as I was running, and didn't give it back to me until I had completed the run. (He ran with his pack and mine!) I was so out of it, I'm not sure which teammate it was, but thank you.
A lot of this may be familiar to you if you've been in the military. For those who have not, GORUCK becomes an ideal vehicle to test your mental and physical stamina, while working with a team through incredible difficulty. And it offers a tiny glimpse into what special operations training consists of—one of the goals at GORUCK.
Whether military, law enforcement or a responsibly armed citizen, we all want to be better prepared for hardships that may come. But we sometimes fall into the trap of thinking that the latest piece of gear or firearm will automatically make us more prepared.
The reality is that quality gear, while very important, will never be a substitute for quality training. We need to be out there every day, strengthening our mindset, skills and physical conditioning to be ready for the day we are called upon to stand in the gap.
MENTAL AND PHYSICAL TESTS
GORUCK can be a valuable part of this preparation. Obviously, there is the physical component to a Challenge, and that cannot be stressed enough. But mental toughness is also tested and developed as you train for a Challenge (participants are given a six-week event training plan to follow) and then work with your team to succeed during the actual event.
To raise money for charity, a GRC alumnus created a t-shirt that reads, "Train Hard For The Day Will Come." We don't get to choose the time and place that we are confronted, but we do get to choose how prepared we are for that confrontation. GORUCK can be a tremendously valuable resource in preparing for that day.
GORUCK as a company continues to grow rapidly. They had revenues of over $4 million in 2012 and were on pace to almost double that in 2013. As the company grows, so do their participation options.
CHOOSE YOUR CHALLENGE
They now have various endurance events, ranging in time from the fourto five-hour GORUCK Light to a 48+ hour ordeal called GORUCK Selection, which has a pass rate of less than 10%. In addition to these offerings, they have classes that teach navigation, firearms and survival tips. They recently opened their first brick-and-mortar store near Jacksonville, Florida and, according to GORUCK, more are to come.
With all this success comes responsibility, and GORUCK shoulders it well. GORUCK is heavily involved in raising money for the Green Beret Foundation through monetary donations, fund-raising events and the donation of GORUCK packs. The GBF assists wounded Special Forces soldiers and their affected families.
For some events, GORUCK requires participants to raise money for the GBF in order to qualify for the event. Likewise, many alumni (GRTs in GORUCK parlance, as in GORUCK Tough) take on private special projects to raise money for the GBF and the Wounded Warrior Project, as well as various medical charities that fight cancer and other diseases.
BACK ON THE GROUND …
Around 1000 the next day, the suffering stopped as Cadre Paul mercifully announced we had completed all requirements. I'd made it through my Challenge and earned the GORUCK Tough patch. I have since been involved in other GORUCK events and have come to appreciate each participant's effort to accomplish more than he thought possible.
I have also come to appreciate GORUCK's unfailing dedication to this country and its warriors, and its desire to build better Americans. If you're looking for a challenge, look no further than GORUCK.
Train hard, for the day will come.