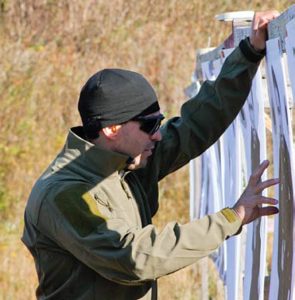 I've seen a lot and trained through most of it, though at times common sense and safety prevailed, and the class called it a day earlier than normal.
While my instructors at Trident Concepts and I are typically prepared for the worst, not all our students respect the dangers of foul weather. In one class last year, the weather was bad, but common for that area and time of year. As the weather deteriorated, I was surprised that a couple of students dropped out and a few showed signs of hypothermia, but the rest were adequately prepared and, while still miserable, were able to stay in the game.
I have come to the conclusion that there really is no such thing as bad weather, just bad choices in clothing. I'd like to talk about microclimates, clothing strategies and suggestions as they pertain to tactical training and operations.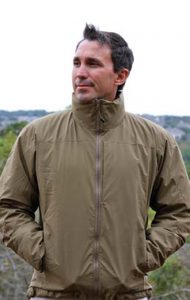 LAYER IT UP
The key to weathering the storm is not a single piece of gear or clothing but a layering system. In particular a microclimate strategy, which means you use a layering system of zoned garments that work together to regulate your body temperature and maintain thermal neutrality while protecting you from the elements.
The zone garments are broken down into a base layer worn against your bare skin to reduce evaporation, an insulating layer worn on top of the base layer to reduce conduction, and an outer layer worn on top of everything. This protects you from the elements, such as wind and moisture, while reducing convection.
Each of these layers has a common performance attribute called "wicking." Warm air is trapped between the layers. As your body heats up, the trapped warm air pressure increases. The moisture then vaporizes from the warmth, and the pressure forces the vapor through each layer.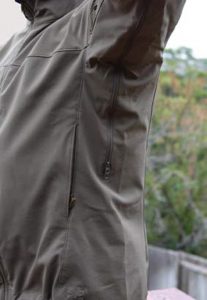 Selecting the best garments is made difficult due to the changing conditions of the weather and your activity level. When choosing garments, try to break the weather down into extreme cold, cold and wet, and just wet. While other extremes, such as hot and humid and extremely hot, are considerations, here I'm just going to discuss the first three.
ACTIVITY LEVEL
Your activity level must be factored into the equation; otherwise you could choose really good gear but either overheat from high activity or freeze from accumulation of sweat. The three activity levels are sedentary, active and extremely active. Put them all together and you might be in extreme cold while sedentary, or cold and wet when highly active, or any number of combinations. This knowledge will help when you're bombarded with the boatload of choices out there.
It should come as no surprise that some of the best cold-weather clothing has its roots in high-altitude mountaineering. The demands of this activity push the limits of human endurance and require the clothing to keep pace. This race to the top has created a race of innovation in design, materials and production. As our armed forces continue to pursue our nation's enemies into harsh mountainous regions in places like Afghanistan, their needs will deviate somewhat from traditional expedition wear.
ARC'TERYX
A few companies have stepped up to meet this challenge. No longer are the armed forces "making do" with what was available—they now have "made for" options. One such company is Arc'Teryx, headquartered in Vancouver, British Columbia. They recognized that some of the hardest users of gear are the armed forces, so they started LEAF, which stands for Law Enforcement Armed Forces program—a collection of hard-use clothing designed for those at the tip of the spear.
Having been at extreme altitudes for extended periods, I am very critical of the clothing I wear. While most of my courses have mild weather, occasionally we get smacked with some really bad stuff. When the weather turns bad, I turn to gear that will allow me to keep doing my job.
That means I need gear that is minimalist, tough, well designed, and surpasses its intended purpose. I don't need a lot of bells and whistles that just add weight and potentially weaken the product. The very nature of my job is going to abuse the gear, so I need it to have a decent shelf life and, if necessary, be easily repairable.
I hate wearing something that constricts my movement or hinders my ability to do my job. My clothing needs to be well articulated and give me freedom of movement. If I buy a piece of gear because it is supposed to do an excellent job at a specific task, I expect it to be awesome at that task. My policy has always been: "Train like you fight so you will fight like you train," and this includes the environment. So plan accordingly, because I stand ready to train despite how high the suck factor may get.
LEAF GEAR
While in unforgiving locations, I've been fortunate to have used some of the best cold-weather gear from most of the big names, including Arc'Teryx. So I already held them in high regard, but when I experimented with their new LEAF line of gear, the results were totally positive. Let's take a look at some of the gear I used during the past winter season and examine why it works well.
The winter weather in my training locales varied quite a bit, which gave me the opportunity to use the gear in different conditions. My goal was to keep the same load-out for all my courses. I had a small bag it all fit into. Here's how four of the major pieces performed.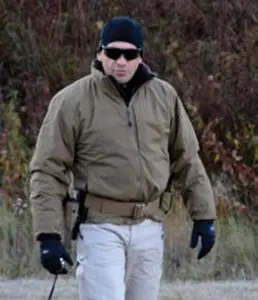 BASE LAYER
As mentioned earlier, the base layer is your first layer. It must do an excellent job of quickly wicking moisture away from your skin so you do not waste precious energy. In addition to high wicking properties, you want it to be form fitting and hypoallergenic. Its being form fitting will allow moisture to transfer more efficiently. Since it is against your skin, the hypoallergenic properties mean it retains less odor and other impurities, which can degrade its wicking duties.
I wore the Rho LTW Zip top and bottoms and was very impressed. The Rho LTW is made of MAPP Merino wool and constructed with flat locked seams that lie flat for greater comfort. The top weighs 9.6 ounces with a half zip for venting, gusseted underarm design, and laminated chest pocket. The bottoms weigh 8.6 ounces with a gusseted crotch and laminated thigh pocket.
I much prefer wool or natural fibers, because I'm in the base layer a lot and it can get a little stinky after a while, but the fibers offer minimal odor retention. I hardly knew I had them on except for being toasty warm. Occasionally I would zip up the half zip when it got a bit chillier. Unlike a few of the zippers on other gear, my neck didn't get chafed. The sleeves are nice and long, so I didn't have to worry about the chill running up my arms. The sleeves also fit nicely under my gloves.
INSULATING LAYER
Since I was wearing a chest rig most of the time, on top of the first base layer I wore the Chimera LS (Long Sleeve) Shirt, which is made up of two fabrics that complement each other and show the innovation in design and materials from Arc'Teryx. The yoke and shoulders are made with a stretch woven material for greater freedom of movement, and the torso is made with an advanced moisture-transferring fabric to really assist in wicking.
The shirt weighs in at 8.2 ounces, has gusseted underarm construction, stretch woven cuffs for greater seal around the wrists, and bicep pockets with IFF patches. One additional feature I really liked was the longer torso length, so I could tuck it in without it being pulled out when performing high-output activities or assuming shooting positions. When I wore my chest rig and armor on top of the shirt, the freedom of movement was impressive. I typically see designs fail once I start adding things like armor or heavy packs, but not this shirt.
OUTER LAYER
For those mornings when it was downright cold and the sun was slow to crest the horizon, I needed some insulation to keep warm. For that I wore the Fusion Jacket, which weighs in at 24 ounces and is packed with lots of great features but no frills.
It starts with a Windstopper® windproof shell that has a generous cut to wear on top of your other layers. The insulation is made of high-loft Therma-Tek™, which has a high warmth-to-weight ratio. The highly compressible and laminated construction eliminates the cold spots you typically experience with other insulated items.
I would put this jacket on and, with temperatures in the low to mid 30s—and the wind chill making it even colder—I found myself nice and warm. One problem I see with high-loft insulation is the "puffy" bulk, but this jacket doesn't have any of that. It is streamlined, well articulated for natural freedom of movement, and breathable.
I found that as my activity level increased, the Fusion Jacket kept me comfortable until late morning, when the rising temperature and increased exertion forced me to strip down. The jacket's being highly compressible was nice because I just rolled it up, locked it off with a heavyduty rubber band, and threw it in my bag.
But I've saved the best for last.
ALTERNATE OUTER LAYER
When the temperature reached the high 40s, the Fusion Jacket was too much. Had I been more sedentary, it would have rocked, but with my activity level, I broke out the soft-shell Combat Jacket.
The Combat Jacket weighs 18 ounces, is constructed of Tweave® Durastretch® and designed as a high-performance alternative to a BDU top when breathability and freedom of movement are critical. It worked great when it heated up, though the wind chill was still a factor with the base layer and shirt. I wore it both underneath and on top of my chest rig very comfortably.
When worn underneath my chest rig, the pit zips, drawstring hem and adjustable cuffs allowed me to moderate my core temperature without taking the jacket and all my gear off. When I wore it on top of my gear, I wasn't able to zip it up, but I really have no need to do that anyway.
As my activity increased in the afternoon, breathability was maintained for quite a while. On a few days in the late afternoon, my base layer was more than adequate, so I eventually stripped it off as well. I found the Combat Jacket to be my go-to piece of gear—I wore it the most regardless of the base or insulating layers.
FINAL THOUGHTS
The mission drives the gear, and as we continue to pursue our nation's enemies all over the world, cold-weather gear needs to support our war fighters. Arc'Teryx's LEAF line of clothing is topquality gear and I see its advantages for end users across the board—from outdoor enthusiasts to law enforcement professionals and members of our armed services.
If used improperly, the best gear may not meet your expectations, but if you understand the microclimate theory and layering strategies, you can take advantage of these excellent pieces of gear. With Arc'Teryx's innovative designs, use of new materials, and excellent construction, I'm sure we'll see their gear keeping our armed forces warm for years to come.