Over the years I've lost count of the hundreds of individuals who have asked me how I would set up the ideal 1911 .45 ACP. So after years of personal requests from students, my wife Brett and I have decided to build two versions of our own 1911.
These are customized pistols built by the renowned Robar Company of Phoenix, Arizona. They are available to all serious gunfighters and have everything essential to a "hardened" 1911. In short, there are no mud flaps or whip antennae. As built to my specifications, our custom 1911 will fit about 99.9% of the serious gunfighting population. It is a pistol that allows the shooter to really get behind it and work it to its fullest potential. It becomes a part of the shooter once it is worked properly.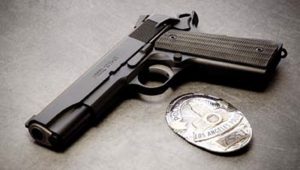 I purchased my first 1911 in 1971, so I have 40 years of experience with the 1911. I used it in three of my shootings. It has worked and worked well. There is nominal trigger slack in the 1911 and, when properly built (as these are), it not only fits the hand perfectly but allows for an incredibly clean trigger press. It can be run at speed or to great distances (500 yards plus) and applied for precise shots (hostage rescue) if needed. It is very much a gunfighter's pistol.
Too often I have seen all manner of excessive accoutrements to 1911s proudly displayed and gushed over. Any advice I used to give regarding these unnecessary add-ons was generally argued with (rather vociferously, I might add), at least prior to the commencement of a class. Without fail and usually within a short period of time, each and every one of the faults I had mentioned at the outset would manifest themselves on the range.
Disappointment would set in, followed by resentment toward ill-spent funds, and in some cases my personal 1911s were utilized for the remaining portion of the class. Better there than in the field, I suppose.
There is often a distinct disparity between what a gunsmith might feel is necessary and that which is actually required— and hence what he can charge. There is also a difference between a marketer and a serious gunfighter. One sells, whereas the other trains to prevail based on real experience. "Therein lies the rub," as Shakespeare said.
What looks slick in an ad does not necessarily have a practical application in the field. A competitive Star Wars pistol might work for a period of time when properly set up, tuned and balanced ever so perfectly, but competition is not gunfighting.
Combat loads are for combat, and regulated competitive loads are for preset and prearranged targets on a known course of fire. Gunfighting exhibits none of this. Technology can fail, and advanced technology can fail even more. More complex is not necessarily better—it is simply more complex. And gunfighting is already complicated enough without adding to it. What we have put into our pistols needs to be there and is there for a very good reason.
We decided to build two models of our 1911, the ITTS Elite Combat and the ITTS Reitz Signature. The Elite is coated entirely with Robar's unique Roguard, and the Reitz Signature is coated with NP3 on the frame and Roguard on the slide. These coatings are incredibly protective as opposed to simply decorative. I exposed the Signature model to salt water in Hawaii for two weeks and it did not show any sign of corrosion.
Both pistols are throated, and the feed ramps are polished and fitted. The rear sight is marked to readily observe if it has ever shifted, which is very important. The pistols have straight mainspring housings and set-back triggers tuned to perfection to allow the shooter to definitively "get on" the trigger, which equates to a more precise trigger press as opposed to "reaching" for the trigger.
The Reitz Signature pistol has finely checkered front and back straps, and both models have ambidextrous safeties. They function flawlessly and are extremely accurate. If any shots go astray, it is the shooter, not the pistol.
On duty or off, you can bet your life on these pistols. There are options available on both models, such as a dedicated light mount or full-length guide rod.
Both models are numbered according to when the orders are placed. A serial number may be requested if that has not already been filled.
For more information, click on the 1911 page on the ITTS website.